Costco Canada: Blendtec Designer Series With Wildside & Mini Twister Jar Was $500 | Now $400 & Free Shipping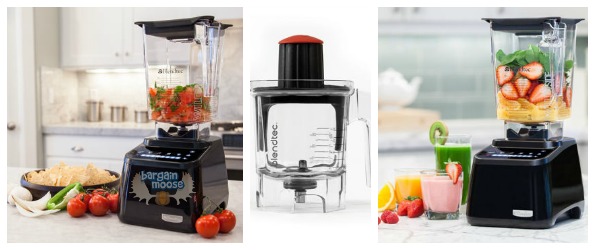 Costco's got a fantastic deal on for all of you who have been waiting for the Blendtec blender to go on sale. Save $100 on the Blendtec Designer Series mode with the Wildside and the mini twister jars. Get it for $399, with a regular price of $499 and of course, it will also ship for free.
I did a bit of research on Blendtec before I wrote this deal, making sure this is the best price out there. We've previously blogged about Blendtec, but on the professional series and I wanted to know what the difference was between the two. Apparently both blenders perform pretty much the same, but there have been some great changes added to this model that beat out the professional series.
It has 16 custom blending speeds, which beats out the five or ten speeds of the others. It has touch screen controls, which the other series does not have. You can of course blend almost anything in it, including making soup that you can eat right out of the jar as it warms up in the blender!
The twister jar is a nice new feature that Costco sells with this blender and other retailers do not. It lets you blend the thicker recipes like nut butters and baby food and salad dressings. Sometimes you don't want to wash a large jar just to make a small serving of salad dressing.
This makes a fabulous Valentine's gift for the love of your life as you might not splurge on this for yourself, but you would for the person who has always stuck by your side. Plus, you get to take advantage of what they make as well.
Shopping around, Best Buy also has this blender on for $100 off, but they don't include the mini twister jar. Future Shop is the same. Those are the cheapest prices I've seen it, as there are some smaller health stores selling it for upwards of $500. This mini twister jar sells for $129.99, which makes this deal at Costco far superior over the prices at Best Buy and Future Shop.
This very recent review sums it up nicely:
I researched high end blenders for 7 years before finally deciding on the Blendtec Designer model. I tried both this and the Vitamix. I love the pre-set program cycles which I use most of the time. They work great for me, as I startle easily at loud noises and would probably not be able to hold button down long enough to do a good job...this way I just press the button and let the machine grind away! This deal for $399 with the twister jar is the best price I have ever seen and is $80 less than what I paid for the blender alone last year. The wildside jar is sold for $120-$150, so really this is like getting $220-$250 off regular price!
(Expiry: 1st February 2015)