Costco Canada: $25 Off Forno Magnifico Electric Pizza Oven - Now $74.99 & Free Shipping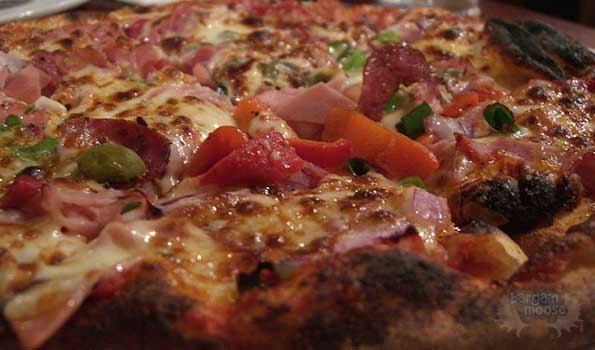 Did the picture above of the pizza make your mouth water? It did mine, especially when I think about how it could have come out of the Forno Magnifico electric pizza oven, which is on sale for just $74.99 (reg. $99.99) at Costco right now. Shipping is free.
There is something to be said about the quality of a stone-baked pizza within such a small appliance as the Forno, especially since it has  a whopping 4.5/5 stars with 33 reviews.Here's one such review:
I to purchased this in December and I have no regrets. It cooks pizza to perfection. My Favorite pizza crust recipe(Bobby Flay-Food Network, trust me give it a try) is to die for on this pizza oven. In the past months we have not once ordered pizza, don't have to anymore when you can make it in 10min. Have tried frozen bought pizza's as well, works good, just need to cook slightly lower temperature. Well worth every penny!
Another reviewer even mentioned being very impressed at having paid just $99 for this pizza oven. In fact, it's $99.87 at Walmart and I even found it "on sale" for $89.99 (reg. $149.99) at Your Daily Deal.
Also, the cheapest pizza oven at Walmart is the Cuizen countertop pizza oven maker for $64.97, which if you look at its picture, just doesn't compare to the Forno at all. The Forno is also third on OvenBacon.net's list of the Best Electric Pizza Oven in 2015.
All in all, the Forno Magnifico electric pizza oven can reach a temperature of over 400°C and features a real ceramic refractory cooking store. It will take 10 minutes or less to bake a fresh pizza and although I haven't tested it for myself, I bet this oven warms up quicker than a regular oven, thus saving even more time.
You could also bake a frozen pizza in there (though why would you want to?!), but you might want to lower the temperature a little bit, as per a couple of reviews. Cleaning is also supposed to be a breeze.
(Image Credit: Alpha)
(Expiry: 20th September 2015)