Costco Canada: $200 off Optoma 3D 1080p HD Home Theatre Projector Bundle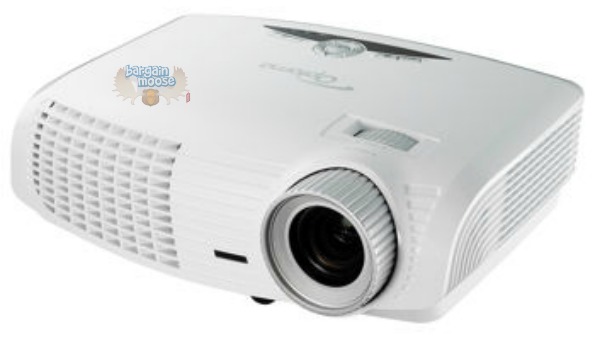 Want to make family movie night awesome?  Want your gaming experience to be huge?  Want your neighbours to be jealous?  Want your kid's friends to be amazed?  Want your home theatre setup to be able to take advantage of blockbuster movies in 3D?  Play the latest ps3/ps4/Xbox one games in 3D?  If you said yes most of the above, Costco has a great bundle that will allow you to do any or all of the above.  Right now you can at Costco online you can get $200 off the Optoma® HD25e 3D* 1080p HD** DLP® Home Theatre Projector Bundle.
For $899 you get the projector, which some have called the best in its class, and 3D glasses, and the respect of your friends and family.  Ok maybe respect is not the right word but certainly your cool factor will go up a few notches and people will think you are some sort of tech savant, maybe. Please note I do not 100% guarantee these results and am not liable if you do not believe that your street cred with the kids has skyrocketed.
With a projector you can make the picture as big as you like, depending on the size of room you have, the bigger the room the farther you can mount the projector from the wall or screen and the larger the image will be.  Make sure when you are thinking about where you will be placing the projector it has an unobstructed view of the screen as anything in the way of the projection will block the image.  This model is also 1080p, which ensures a smooth clear picture, and it is 3D capable, which allows you to experience the latest X-Men movie or Lord of the Rings movie in the way the directors intended.  3D gaming, while not something you will always use, with the right game, is a truly immersive experience.
The unit comes with a one year manufactures warranty. Being that you bought it from Costco you have 90 days to return it for full refund if say it's ruining your life because all you do now is watch movies and play games or whatever.
This Costco online $200 off Optoma® HD25e 3D* 1080p HD** DLP® Home Theatre Projector Bundle will not last forever; the time is now to go BIG!
Shipping is always free from Costco, so you've added that perk too.
(Expiry: 6th July 2014)