Clothing from $3 & Accessories from $1 + Free Shipping on ALL Orders @ Forever 21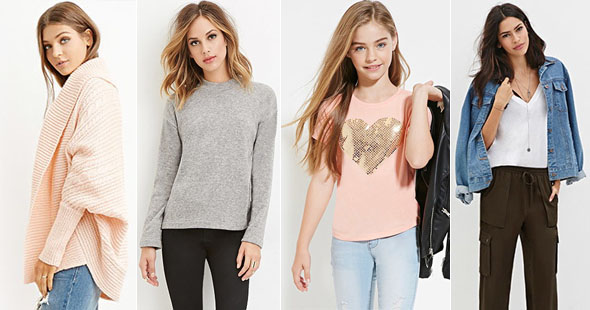 Today only, Forever 21 is offering free shipping on each and every order. This is a great time to get a few basics or a couple of trendy pieces without worrying about a minimum order amount. No promo code is needed, just shop and check out! *Edit: thanks to Mooser, Sue, for pointing out that you can sign up for Forever 21's email news and receive 10% off your order! Thanks, Sue!*
With basics such as the Knit V-Neck Cami priced as low as $2.90, you usually can't go wrong with Forever 21. I prefer to wear camis like undershirts so I like these Favourite Long-Line Camis as they're as bit longer, for covering the assets. There are a bunch of T-Shirts - and Long-Sleeve Tees too - for just $6.90.
Baby, it's still very cold outside and if you find you're lacking for sweaters, you can grab some here for under $10 and they'll each ship for free! For just $7.99, this Deep V-Neck looks simple and stylish; there are Button-Front Cardigans to pull over top of your new camis for only $8.99. Jeans, like these Classic Skinnies, start at just $9.90.
I took a look through the girls' section and there's some cute stuff for your little girl, as well! There are Graphic Sweaters (including this Olaf one!) for $11.99; basic knits are $13.99. These Soft Knit Pants come in six different colours and have been marked down to $7.99 and these jeggings are $10.99. The Classic Skinnies for girls are just $8.80.
I also checked out the Sale Accessories and found headbands for just $0.99. They'd be great for keeping the hair out of your face during a workout on the cheap. There are pretty scarves, glove sets and beanies for $4.99 each.
Forever 21 also has the men covered. If you're looking for some basics for the man in your life, this Basic V-Neck Sweater is on sale for just $6.99 and these Dark Wash Slim Fit jeans are just $18.80.
There are thousands of items to be found and extensive sale sections for everyone. Remember, every order ships for free so if you only need a headband or a scarf, you won't need to pay any extra charges. This offer ends tonight so head over now!
Happy Family Day, Moosers!
(Expires: 15th February 2016)