75% Off Lord of the Rings & The Hobbit Board Games Were $30 | Now $7.50 & Free Shipping @ Chapters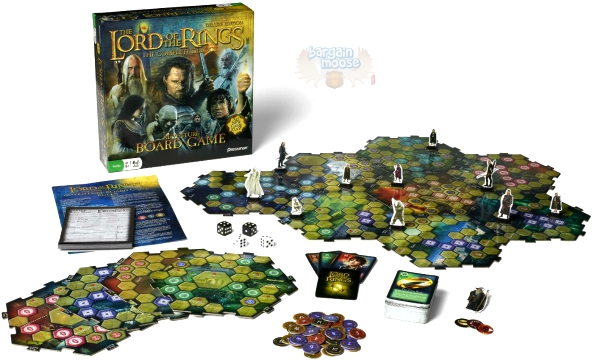 **Bump: With 75% off these games AND free shipping for the next few days, these are a great deal!**
Summer has arrived and children are looking for things to do to occupy all that free time they have been craving since September last year. Purchase this Lord of the Rings board game to keep your little fantasy lovers happy. Originally $29.95, the board game is now on sale for $7.50. In addition, you can purchase The Hobbit: An Unexpected Journey Board Game on sale from $29.95 down to $7.49 as well. Now receive free shipping on any order.
Join Frodo, Sam, and the game on an epic journey to save Middle-earth from evil forces at work in the Lord of the Rings board game. This board game is designed after the famous The Lord of the Rings movie trilogy as images and characters are taken directly from the films. Children ages 8+ and adults will enjoy this game that looks sort of like Settlers of Catan for fantasy lovers. Your game includes:
12 hexagonal playing board pieces
11 character pawns
10 plastic bases
49 Forces of Sauron tokens
1 ring token
1 Eye of Sauron direction indicator
1 path blocked token
2 D6 white dice
2 D6 black dice
100 cards
score pad
rules (because we all need them!)
The game is designed for 2 to 10 plays and would make a great addition to a family games night. If you do not have a family games night, then it might be time to start one. It is a great way for families to bond and get caught up on each other's lives.
While this game is not sold at many places, I did price compare it with a couple other online retailers. Sears Canada sells the same board game for $29.99. At Amazon Canada, the same board game is sold for $29.74 by a secondary seller but it is fulfilled by Amazon.
The Hobbit: An Unexpected Journey Board Game is also on sale. Originally $29.95, the game is also on sale for $7.49. While Amazon Canada also has this game on sale for the same price, Sears Canada sells it for $29.99. I like the idea of having these two games as a pair and I wonder if you can switch tokens and board pieces between the two games. I don't see why not as they have similarly designed game play.
I love playing games by hand - without electronic devices. There is something different about the dynamic of bonding with people in person over cheese and crackers and cards. If you love fantasy and like board games, then check out this deal.
(Expiry: unknown)