Chapters Indigo Canada: Free Shipping, No Minimum Spend On Now!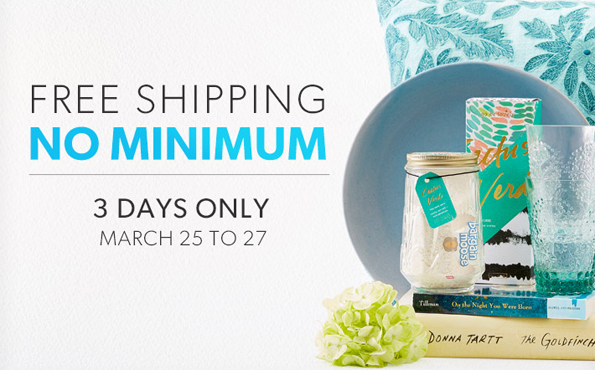 Starting today and good through to Thursday the 27th of March 2014, the Chapters Indigo online store is offering free shipping. And what's even sweeter is that you don't have any minimum spend requirements to place your order!
This type of free shipping event happens rarely at Chapters, maybe two to three times in the whole year, so it's worth taking advantage of it. Here's my advice: think of the next few birthdays or events coming up in your family, and stock up on some gifts now. Shopping online at Chapters, getting the parcels delivered free to your door – always a pleasing, stress-free experience! I have two family birthdays coming up in April, plus a relative's big anniversary party. I've already bought all the gifts when I saw special offers on various items online. :)
There are a few deals on certain areas of the Chapters site right now, to have a look at. For example, there is 20% off select Lego toys, including Ninjago, Duplo, Chima and City. Ever since "Santa" delivered some for my three year old daughter for Christmas, the Lego has been played with almost every day. It's such a fantastic toy and brilliant for the little one's imagination. However, it's not cheap to build up a Lego collection, so always worth checking out any Lego sales if you are a collector.
The Chapters Indigo deals of the week page could also be worth a glance. There are some Selby books for $20 each, $100 off the Kobo Arc 10 HD 16GB tablet with three free kids' eBooks, and $10 off the Roku 2 Media Streamer.
Don't forget about our free shipping page too though - this is a page with many more stores which offer free shipping with no minimum spend, all the time.
(Ends 27th March 2014)