Chapters Indigo Canada: Free Shipping, No Minimum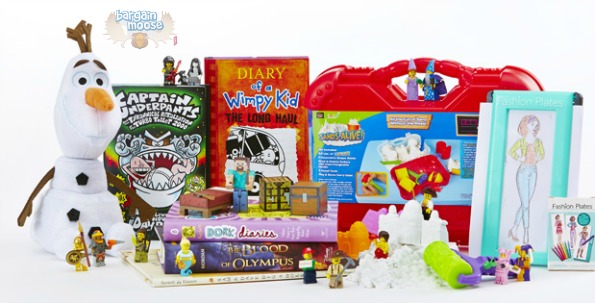 Since we know you love free shipping deals after the huge success of our No Minimum Monday event, I wanted to let you know that Chapters Indigo has free shipping with no minimum today only.
The sale section is completely full and now is the time to shop there, with no $25 minimum to meet at Chapters Indigo.
I of course headed over to the 50% off toys section as I'm scrambling to get the last of the gifts for my boys. I noticed they had some fun Elf on the Shelf items on sale and my boys love their elf.
The Elf on the Shelf Hide and Seek game looks cute and fun. Basically someone hides the elf, but music plays and the first to find him gets a gift for their sleigh. I know my two youngest boys would be thrilled with this game and they can even play it on their own. It was $19.95, now $14.
If you've got a Divergent fan to buy for, this journal set is a hot deal at only $4.24, including free shipping, with a regular price of $16.95.
There is a large selection of $5 books, with regular prices of $15 and up. These would make great stocking stuffers for the book lover in your family.
One gift that I got from my mother-in-law years ago, was a Christmas journal. She always wrote in her Christmas journal and then scrapbooked every year from the first Christmas with her oldest son. When my husband and I were getting married, she bought me a Christmas journal to continue the tradition with our new family. I have written in it most years and I thought it was an incredibly thoughtful gift, that honestly, doesn't cost much. Chapters Indigo has a beautiful selection of journals and they are 30% off right now.
My favourites include this embossed owl allover auburn journal for $14 (regularly $20) and this embossed grey owl journal, also $14 (regularly $20).
(Expiry: 12th December 2014)