Cartoon Cat Wallet Only $4.97 & Free Canadian Shipping @ Born Pretty (US)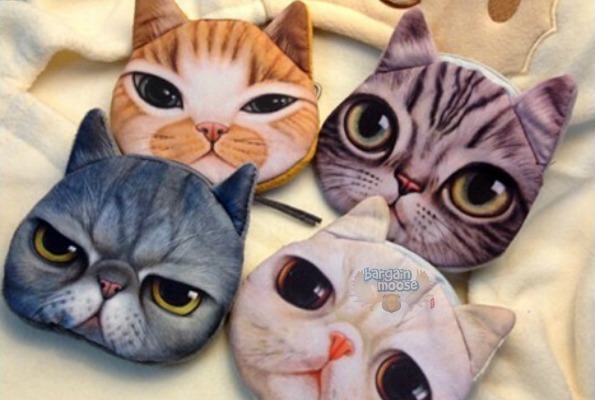 If you are looking for the perfect birthday party favour, or just want a funny wallet to make you smile, then check out this Cartoon Cat Wallet over on Born Pretty for only $4.97 USD. This wallet also ships completely free worldwide.
These cartoon cat wallets are adorable. The cats remind me so much of the cat on the Talking Tom app except for the grumpy face. That one looks more like the infamous Grumpy Cat. Right now, you can score these wallets at a cool price that is perfect for a funny gift or if you just have a sense of humour. You could also pick these funny wallets up for birthday party favours, and the price even goes down if you buy multiples! I can see a group of kids really enjoying finding this funny cat faced wallet in their goody bags.
This wallet is available in four different cartoon cat designs. Choose between three smiling faces and one adorable grumpy cat face.  I like that the site will allow you to pick which design you want. I find that with inexpensive items, you get whatever design the retailer happens to grab to fulfil your order. I have my eye on that grumpy face!
Price Comparison
I found these exact kitty wallets available on a website called jollychic.com. This website also ships to Canada from the states and is charging $2.45 for the wallet, but tacks on $8.62 in shipping fees. That brings the total of this wallet to $11.07 CAD. I found a cute hinged wallet with a printed cat at Ardene for $9.50 and shipping will cost an extra $7. That brings the total to $16.50 CAD for this wallet. Zazzle.ca has many options for fun cat wallets but the lowest price is $16.95 CAD.
Shipping and Duties
These wallets ship completely free worldwide, which is awesome news for us. The prices are all in USD so it will cost slightly more in Canadian dollars. If you are just picking up one of these wallets, you will not have to worry about duty fees shipping from the states as the price is under $20. If you are picking up a handful of these wallets and your order is over $20 you may experience some duties at the door. I suggest buying these in multiple orders if you want several so you do not have to worry about duties as the shipping is free anyways. The small difference you would save ordering in bulk would not outweigh potential duty costs at the door if your order is over $20 though the rate can change daily.
Grab your favourite cat now, Bargainmoosers. You will smile every time you look in your bag and see that adorable kitty face. This is also the perfect little gag gift to hide away.
(Expiry: Unknown)