Canon Canada: LS-123T Calculators Were $14.99 | Now $7.49 & Free Shipping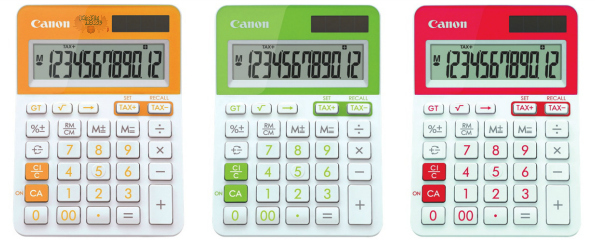 Canon Canada has quite the pleasing deal upon these colourful little Canon LS-123T calculators. Originally $$14.99 each, the calculators are on sale for $7.49. Currently, all orders at Canon Canada ship for free with no minimum!

Above I linked to the blue LS-123T calculator, but there are three other colours to choose from:
All four colours are on sale for the same price. I think the green is my favourite - it is such a pretty shade of green. This calculator features an upright angled display for better viewing. Save time with tax calculation keys and grand total memory function. The calculator performs 13 functions including the two functions mentioned above. It also has a reversible keypad and four memory buttons to reduce the time you spend calculating. While you will need a battery, the camera also uses solar power. The automatic power off function will help you conserve energy.
Of course, I price compared this unit with other retailers. Best Buy Canada sells this calculator for $14.98 with free shipping on $25 or more. They do have the red on sale for $11.98. Amazon Canada sells this calculator for $14.99 and has the red on sale for $11.98 (free shipping on $25). The Source Canada comes the closest to Canon's price as these calculators are all on sale for $11.99 (free shipping on $25) right now. All three of these stores were not only more expensive, but they require a free shipping minimum much higher than the calculator's price.
Now, this is a good basic little calculator for your everyday needs. While my laptop comes equip with a calculator (like all PCs), I find it much quicker to calculate deals on the physical calculator I keep by my computer. I wish it had an elevated screen, but overall it does an excellent job. I think this basic calculator from Canon would be great to have around the house, especially at this price. Given the elevated screen, good button size, and the adorable colours... I am tempted to upgrade my calculator.
While there are no reviews on the Canon website (or Best Buy or The Source), you can check out three reviews - all positive - on Amazon Canada.
(Expiry: 30th April 2015)