Candi Factory: Flowered Underwear Only $13 & Free Shipping ($23 Value)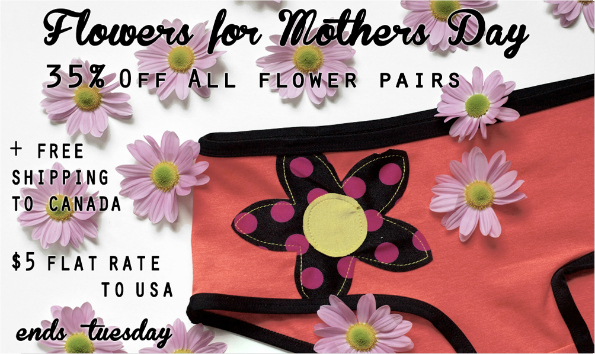 The Candi Factory is offering 35% off flowered underwear for Mother's Day. On top of this offer, you will receive free shipping on your flowery order.
This deal is on women's underwear. I think they are very 'liberal' on their definition of 'flower underwear' as there are five pairs to choose from in this sale. The Nicole and Flower Tangerine are obviously 'flowery' underwear that are on sale from $20 and marked down to $13.
The Sunflower Print is also included in this sale and fits under the 'flower' theme. Originally $20, the underwear is on sale for $13.
However, a couple pairs of underwear do not sound flowery but are also on sale. The Ruffle Bum is one of my favourites because, let us face it, ruffles are fun, cute, and girly. Originally $20, they are on sale for $13. Lastly, the I'm with stupid underwear is also on sale for the same price. I do not recommend these as a gift for anyone but a girlfriend who has a great sense of humour.
Sizes extra-small through large are still available in most the sale underwear. For $13, I think these bottoms are a great buy. They are made of breathable microfiber that will not ride up and give you a wedgie. The waistband does not dig in, and is very comfortable. I have owned a couple pairs of these underwear and I found them very comfortable. They also offer great rear coverage for anyone who likes a little extra fabric in the back.
If you are giving these to your wife, mother, or a lover... then choose a free personalized gift card as well. It will be popped into your package - ready for gifting. You can choose from a few different gift card designs: pink dot, green dot, or a blank card.
The free shipping is a very nice bonus as well. Usually, shipping costs $3 on orders up to $60. Orders above $60 usually cost $6 to ship. While this is not terribly expensive, it still is rather nice to save that additional money on your purchase.
This promotion is only valid on women's underwear. The company does sell men's and children's underwear as well.
(Expiry: 28th April 2015)