Candi Factory Coupon: 20% Off & Free Shipping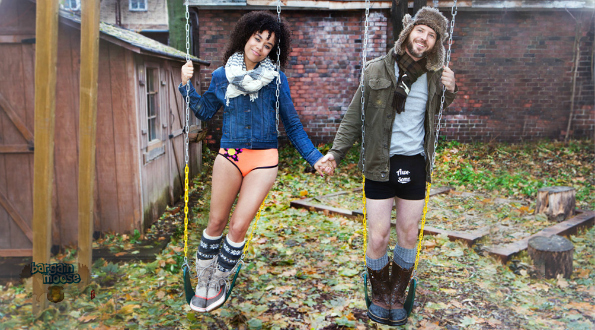 The Candi Factory sells awesome underwear that is both comfortable and fun! This weekend they are offering 20% off and free shipping when you use the following coupon code.
Click here to shop @ Candi Factory Canada now
Coupon Code: IheartU
Discount: 20% off & free shipping
Expiry: 17th February 2015
These underwear are for men and women - so buy your partner (whatever gender they may be) and yourself a fun pair of undies with free shipping as well.
I am DYING over these Smarty Pants undies for women. They are the perfect combination of sass and smarts on a smart pair of underwear. How are these underwear smart? Well, they will not dig in at the waist and create the dreaded muffin-top. They also will not ride up your butt, which is a journey my current undies are undertaking. These underwear are also a smart buy. Originally $20, you can purchase them for only $16 with free shipping across Canada.
The men's section is also wowing me with the tribute to wonderful geekiness! I just adore these Video Game Boxer Briefs that feature Pac-Man! There is even a retro controller imprinted on the side of the thigh. These are just all sorts of awesomeness for anyone who loves classic arcade games. I remember playing Pacman at the Greyhound bus stop while waiting for my Grandmother to arrive. These boxer briefs retail for $30, but come down to $24 with free shipping after coupon.
The Stormy underwear is still my favourite print from Candi Factory. Originally $20, they will only cost $16 after coupon. I just find the large raindrops so darn cute. The white cloud on the one hip is adorable as well.
The only downside to Candi Factory underwear is a bit of a panty line. However, they are super comfortable and very durable as well. You will not want to wear these under super clingy dresses or thin skirts, but under your usual jeans will be fine. I also like to just parade around the house in underwear.
The free shipping offer is a nice bonus. For orders up to $60, shipping usually costs $3. For orders above $60, shipping costs $6. There is no regular 'free shipping with minimum' offer so this is a very good deal. If your order is a gift, add a free personalized gift card to your order.
For this and any future Candi Factory coupon codes, please visit our forum.