Candi Factory 35% Off & Free Shipping for Father's Day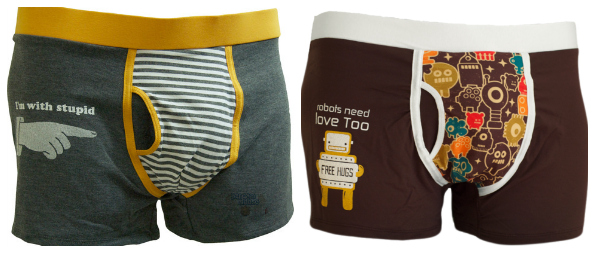 Candi Factory Canada has a special Father's Day promotion. Receive 35% off select men's boxer briefs and free shipping across Canada.
All the men's briefs that qualify for this promotion are marked by a small red 'sale' tag under each product. Usually, men's briefs retail for $30 each. However, you can pick up a pair for just $20 during this sale. There are seven qualifying styles.
My favourite men's briefs are the Robots Need Love Too. I am not alone as only sizes medium and large are still in stock. The fun pattern across the crotch and the little robot on the leg really make this a cute brief. Brown is one of my least favorite colours, but I would make an exception for this underwear.
Does your father or mate love the New York Times crossword puzzles? Then pick up a pair of Crossword briefs. The puzzle is across the crotch and the clues are on the thigh. You could try actually doing this puzzle with a washable ink pen. I suggest trying it while your partner is still wearing his pair.
These Smarty Pants are another favourite of mine. Most my male friends are fairly well educated; one is just about does his PhD and another has two masters degrees. I would not mind getting each of them a pair of these underwear just to remind them of how smart they really are.
Candi Factory underwear are not your usual cotton briefs. They are made from a combination of bamboo, cotton, and lycra. The bamboo and cotton combination ensures the boxer briefs are breathable and comfortable. Bamboo tends to me a very soft fabric so your butt will feel pampered. Lycra gives the boxers stretch. Without lycra, the boxer briefs would sag in high stress areas.
I gave my partner a pair of these a few years ago. They are one of my favourite pairs that he owns just because they are so incredibly soft. I also like funky underwear (white or grey briefs are the worst) so Candi Factory is a great source of funky underwear.
This deal is made better with the free shipping promotion. You save an extra $3 to $6 in shipping costs with this offer. You can also pick a gift card to ship with your order.
(Expiry: 12th June 2015)