Canada's Gift Baskets: Free Shipping With No Minimums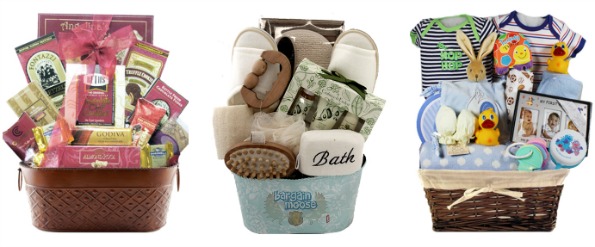 We want to introduce our Moosers to a great online store that is perfect for giving gifts to friends and family who live far away. Shop at Canada's Gift baskets and you can get free shipping on all orders with no minimum charges.
If you are wondering why I think it is special for a company to give free shipping, it is not that rare. What is pretty rare is that a company which is not your typical clothing, electronics or beauty items company is giving free shipping. This is pretty great actually. These types of companies, who specialize in gifts, almost always charge a base fee for shipping plus some extras.
Canada Gift Baskets offers baskets for chocolate lovers, spa lovers, baby gifts, tea & coffee lovers, birthdays, get well gifts and much much more. In fact, there is a gift basket for every event, celebration or special occasion you can think of.
I have family spread out between three provinces and sending gifts for mother's day, birthdays and other holidays can get quite pricey. A lot of the time I have to resort to a gift card because it cost so much money to send a gift through mail nowadays. This company is perfect for anyone like me who wants to send more than a gift card but who also wants to stay away from boring flowers.
I found the absolutely perfect gift for my dad here. He is a snack lover and I know he would love this Snack Attack basket that was $104.99 and is now on sale for $83.99. It is a large sized gift basket that is packed full of sweet and savory snacks for someone to enjoy. I am actually getting hungry just looking at it! Even though this is one of the largest gift baskets that they offer, the cost of shipping is still free.
If you are looking for something a bit smaller, I know a few people who would love to get this Crabtree and Evelyn Avocado basket that was $79.99 and is now on sale for just $64.99. It comes with 12 different items packed into a beautiful basket. That means you would be paying just over $5 for each item at the sale price. The baskets alone that the gifts come in sell for well over $15 at stores.
The next time you need to send a gift to a friend or family member, make sure to keep Canada's Gift baskets in mind. Not only do they have some incredible gift ideas, you will not have to pay a cent for the cost of shipping!