Buffalo Jeans Canada: 25% Off Sale PLUS Extra 30% Off PLUS Another 20% Off With Exclusive Coupon & Free Shipping!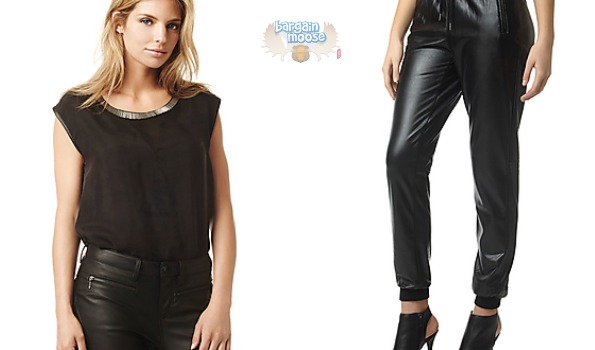 Last month I blogged about a hot stackable promotion from Buffalo Jeans. Well, I've got a new one for you and its even better! This time you can shop the women's sale section where they have up to 25% off regular prices. But, once you add your item to the cart, it will immediately get another 30% off discount. Then, you'll add our exclusive coupon code 20MOOSE to get another 20% off plus free shipping with no minimum. The last promotion had a minimum to get the additional discount and this time there is no minimum, so shop for what you want!
I have a top very similar to this twist and shout loose-fitting tank. I like the twist look as it distracts from the extra weight around my midsection and it makes a fashionable piece. I love both the moth and black colours and it they are different enough to get both colours. Regularly $49, it is on sale for $39.99. Once I added it to my cart, the price came down to $27.99, with another discount of $5.60 with the coupon code, bringing the total to only $22.39.
The section where you'll get your extra 30% off is not huge, but if you are so inclined, you'll find something that is a hot deal and worth shopping the small section for. You also don't have to shop this section only to use our exclusive coupon. You can be satisfied with the 25% off plus the extra 20% off and free shipping. I, myself, like the best deals!
I often find that I don't have enough just plain tees to wear. I don't go out of my way to buy non-graphic tees but sometimes you just need something without a logo or design to pair with something else. These bindie tees are available in oatmeal, lavender and grey and are an important staple in your closet and such a great price too. Regularly $29, on sale for $23.99, they come down to $16.79 and then right down to $13.46 after coupon. You could just buy one tee, get your free shipping and be proud of your bargain hunting skills!
Normally, free shipping is on orders over $99, but sometimes there is a coupon you can use for free shipping, but if you do that, you can't use the 20% off with free shipping coupon. Which do you prefer?
(Expiry: 27th May 2015)