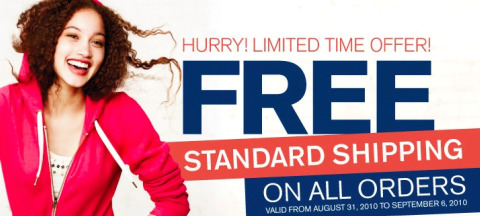 For a few days Bluenotes is offering free standard shipping on any order! This offer expires on Monday, September 6, 2010 around midnight.
There are several decent sales going on at Bluenotes that you might want to check out while you are shopping there. They have $3 camis in 12 different colours that are a nice basic for any girl's wardrobe.
They still have their Jeans & Hoodies Mix and Match BOGO 50% off sale that we mentioned before (HERE). There is also a Graphic T sale going on with BOGO 50% for both men and women's shirts.
Not a bad time to be shopping at Bluenotes. Free shipping just sweetens the deal.