Best Buy: Monarch Computer Desk 7 Was $400 | Now $175 & Free Shipping (EXPIRED)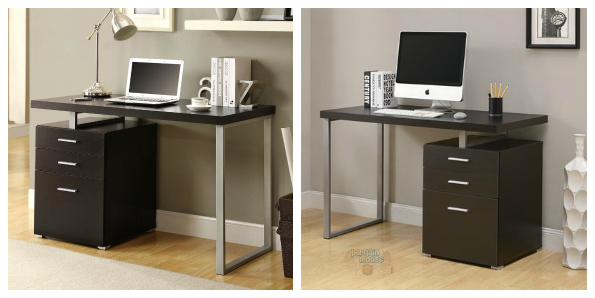 Best Buy Canada actually has a swell deal on a new computer desk / work table for your home. Originally $400, these Monarch Computer Desks are on sale for just $174.99 with free shipping compliments of Best Buy.
This desk is versatile as you can configure it to be a left-facing desk or a right-facing desk when you assemble it. This change essentially effects which side the storage drawers are put. if you are placing your desk in an area where one side is hindered, then this is an essential customizable option for your new desk.
There are four desk colours to choose from:
My price comparisons confirmed that this is indeed a very good deal. Let us do some comparing.
Lowes Canada sells the sale desk in the same four colours. The price at Lowes ranges from $240.55 for taupe and natural up to $285 for white or cappuccino. Home Depot Canada sells all four colours for $283 each. Staples Canada is a bit more reasonable at $239.20 per desk. I also borrowed a review from Staples as there are no reviews at best Buy Canada:
This is a decent desk for the price. It's easy enough to assemble, but, for such a simple looking desk, it took me longer than I expected (4 hours). It's not the sturdiest (e.g. the only thing connecting the set of drawers to the table top is a couple screws). However, if you don't plan to move it around a lot, then it should be fine. Overall, happy with it. Big enough without being too big. Simple, nice design
That gives you a little more information on what the desk is like in your hands. It is a shame that the set of drawers only connect via a few screws, but you could always reinforce that connection with some adhesive strips or more screws if you were not planning on changing the configuration. I prefer not to make permanent modifications to my furniture in case I need to disassemble and move it at some point.
Overall, I think this desk is an excellent buy. if you are looking for a more minimalistic model, then the Monarch Computer Desk - Cappuccino and the Monarch Computer Desk - Dark Taupe on sale from $399.99 down to $199.99 might be a good option. In my opinion, they just have fewer features and cost more.
I also wanted to mention the sale going on at Best Buy Canada. In the furniture section they are offering the following tiered deal:
Buy one get 20% off
Buy two get 30% off
Buy three get 40% off
These discounts are only valid on regular-priced furniture, thus they exclude the deal above. I think this deal is better anyway - especially if you are not buying desks in bulk!
(Expiry: 2nd July 2015)