Best Buy Canada: Keurig Special Edition Single Cup Coffeemaker K60 $89.98 & Free shipping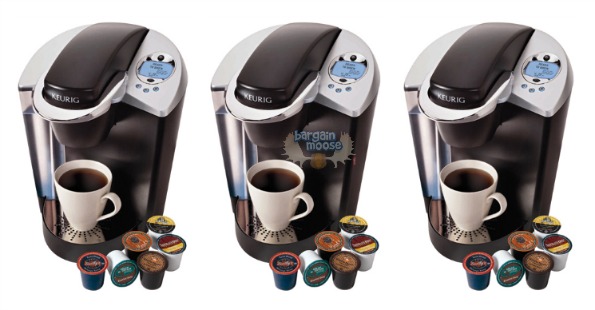 Best Buy Canada has a really great deal on right now for a very popular product.  For a limited time only, you can get the Keurig special edition single cup coffeemaker K60 for just $89.98.
Not only is this Keurig a great deal, it will also get free shipping to boot!
I just got my husband one for his birthday and we have been using it all summer when we are camping.  At first, I didn't want to get him one because I figured since he is the only coffee drinker, we wouldn't get much use out of it- I was wrong.  I make my tea in it and my boys love to make their own hot chocolate in it as well. It instantly became a family hit. It has become so popular in our family that we literally bring it into the trailer when camping and then bring it into the kitchen at home when we are here. I am actually thinking about getting another one because we use it so much!
This system gets an overall rating of 4.1 stars out of 5 and has some spectacular reviews.
This is a fabulous product, couldn't ask for a better brewing machine! Does everything and more! Highly recommend this unit!- Mike

Excellent machine, so convenient, received one last Christmas as a gift and have used it everyday since. Bought one this year for my mother in law and know she will love it. I didn't just buy it for her so that I have good coffee when I visit, okay maybe I did!!!- Dave
Price Comparisons:
I checked out a few different stores to make sure this was the absolute best deal around for this Keurig system and it really is. I found the same system at Walmart Canada priced at $98. I also found it at London Drugs for just $0.01 more than Best Buy Canada, but you would need to pay extra for the cost of shipping which would increase the price. I found it on the Keurig website itself priced on sale for $114.99.  Their regular cost was $159.99 so even though it it marked down a lot, it is still far more than the one at Best Buy Canada.
(Expiry: Limited time only)