Barbie 2014 Holiday Doll Only $19.99 & Free Shipping @ Sears.ca *HOT*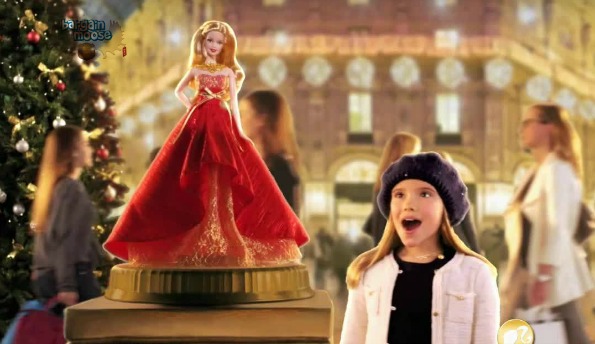 The Barbie Holiday dolls are always hot ticket items around Christmas time. Right now, Sears Canada is selling the Barbie 2014 Holiday Doll for $29.99 (from $49.99). Use coupon code 941612824 to receive $10 off orders of $25, which brings your total down to $19.99. Sears Canada is also offering free shipping on all orders right now.
I price compared this doll with other retails and Sears is completely blowing away the competition with this deal. Here is what the competitors are selling Holiday Barbie 2014 for:
$39.94 @ Walmart Canada
$49.99 @ Toys R Us Canada
$59.99 @ Chapters Indigo Canada
The cheapest I could find any of the dolls at other retailers was the Barbie 2014 Holiday African-American doll for $37.49 at Amazon Canada. As you can see, this deal from Sears is very good especially with free shipping.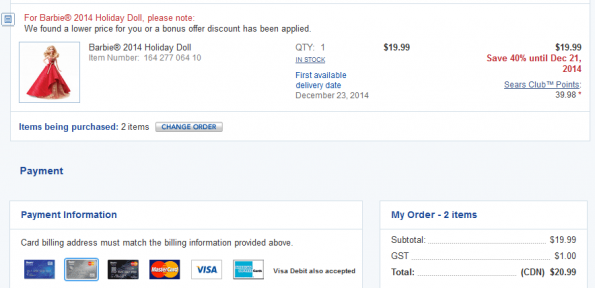 The proof is in my cart! With the promo code applied, this was my total. You will just have to pay taxes for the province that you live in.
Enjoy the stunning red dress with gold highlights on this exquisite Barbie doll. Perfect for young and old collectors alike, The Holiday Barbie is a tradition in many families. This year's doll is already garnering positive reviews from happy customers like this one:
My daughter is in love with this beautiful doll and takes it with her everywhere. The gown, shoes and necklace are gorgeous and the hair and makeup are nicely styled. This doll comes with a stand for display purposes and her legs are different from a standard barbie doll due to this as she is designed to be able to be displayed on the stand.
My mother bought me Holiday Barbies when I was young, but I quickly outgrew them. However, I have a cousin who still collects them even into her adult years. I think it is cool that she continues the collection her parents started for her.
(Expiry: Unknown)