Ardene Totally Free Shipping!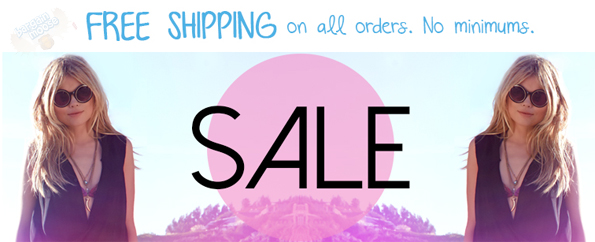 When is the best time to buy anything online? When the store is offering totally free shipping, of course! That's just what Ardene launched this weekend – free shipping on all orders with no minimum spend.
Usually you need to spend $59.99 to get free shipping from Ardene, so this is the perfect opportunity to buy some lower priced items and get them shipped straight to your home. The free shipping weekend happens to fall in conjunction with their summer sale, in which they are offering 50% off select Ardene merchandise.
And on top of the above promotions, we also set up an exclusive coupon code with Ardene, which you might want to make use of. If your order happens to be above $50, you can score an extra 10%. Here are the details of that coupon code:
Coupon Code: ARDENEMOOSE
Discount: 10% off $50+
Expires: 31st August 2014
The coupon code even applies on sale items. Speaking of which, while there are a great amount of items to choose from in the sale section, sizing can be a bit limited. For example, these black leather high heels are only $17.25 but the only sizes left are 6 and 9.
In the sale section, there are even some items at 80% off. How great are these Moccasin style boots for only $8.90? It's just size 6 and 7 left in those. But what a super price! In a similar vein, these biker boots are available in sizes 6,7 and 9, but they're only $7.90. Have a good browse round and you should be able to spot many sale items in your size – start the bargain hunting!
Some other multi-buys that you might want to glance at:
I am in need of a new purse so I had a look for one on Ardene. I spotted this chocolate cross body purse which is priced at $20, or on a 2 for $15 promotion – which is a bit hard to understand! It actually makes it cheaper to throw two in my cart. I could buy one and then just give the other to my sister.
Want to see more Canadian stores which offer free shipping with no minimums? Check them out here.
(Expires 4th August 2014)