Ardene Canada: 5 Pairs of Flip-Flops For $10 & Free Shipping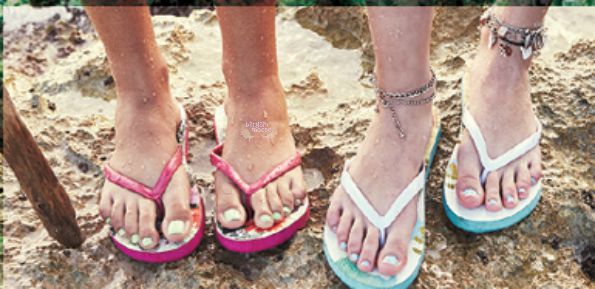 Right now, Ardene is offering free shipping on all orders, which is definitely better than their regular $50 minimum. All of their prices are usually already low, but today they've got a sweet deal on flip flops. You can get five pairs for just $10, with a regular price of $4.50 or more each.
Ahhh... flip flops. There is nothing better to put on your feet in summer than flip flops. Flip flops mean it is a beach, pool or casual day and seriously, what's better than that?Stocking up on flip flops is a great idea since they do break with repeated wear and because you want to have lots of choice for your day lounging. Hopefully, choosing which pair to wear is the hardest decision you have to make today, along with the choice between white wine or Smirnoff coolers.
Ardene has some cute styles with coloured straps and patterned bottoms. Some of my favourites include:
I just picked up those five for $10 plus tax and that's all I paid! If you don't like rubber flip flops, Ardene also sells cork foam.
They even have Elsa & Anna flip flops, that while they won't fit the little girls, any girl with size 7 or more will love these. These are regularly $12.50, but still included in the five for $10 deal.
Scrolling down, I also see a few other pairs I love, so I'm going to get ten pairs! If you are planning on having a beach or destination wedding, getting your bridesmaids some flip flops would be such a cute and extremely inexpensive gift!
They even have some with a wedge, so you don't just have to wear them as beach shoes, take them out for the night! They would be great for changing out of your heels and into, but still looking like you tried.
(Expiry: Unknown)