Amazon Canada: Stainless Steel Pineapple Easy Slicer and De-Corer Was $30 | Now $5.43 & Free Shipping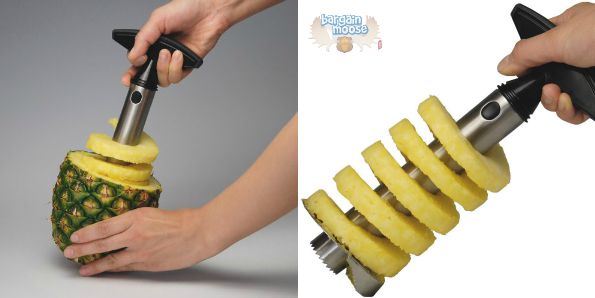 My family loves pineapple but I never buy it because I hate the work it entails. I could buy the pre-cut, but it is double the price and not as fresh. I found a very handy tool on Amazon, which is an amazing price! Regularly $29.99, the All Ware stainless steel pineapple easy slicer and de-corer is on sale for $5.43 and has free shipping.
When you click the above link, you might see a $16 price from Amazon - you want to choose the marketplace seller "Crazy Phone" for this price.
With this tool you'll be able to peel, core and slice an entire pineapple effortlessly in seconds.It is made from stainless steel and makes the pineapple into rings, which is great for eating and for presentation. This item does sell from a secondary seller on Amazon, which is why it gets free shipping. It also has over 200 reviews, which are mixed, but overall it gets a 4-star rating. You will also have to click through to the link below that says how many new to get the $5.43 price and not the Amazon price.
Some customers complained it is flimsy, others say it does the job perfectly. For $5, you can decide and if you like it, you can buy more as gifts, as these would make great stocking stuffers.
When I looked around the web for comparable prices, nothing even came as close. The pineapple corers like this selling at kitchen stores and the like go for at least $20 and up. Even if you see the comparable products underneath at Amazon, they sell for more than $8 from other secondary sellers.
Amazon also shows me products that other customers bought with this item, and I found some of them pretty cool for making life easy in the kitchen. When my kids don't eat their corn, or take one bite, I always cut off the kernels to add to pasta for their lunch (no waste!), but I find I leave half the kernel on there. This one step corn peeler is a much easier, regularly $19.99 and now $4.14 with free shipping.
Similarly, an orange opener, slicer and cutter is so much easier on the cuticles for only $1.90 and free shipping. And because we live in Canada, we have apples-a-plenty and peeling and coring those babies for applesauce can get tedious. I have one of these apple cutter and corers and love it! Regularly $6.99, it is on sale for $2.95 with free shipping.
(Expiry: Unknown)