Amazon Canada: KitchenAid Architect Food Processor Only $169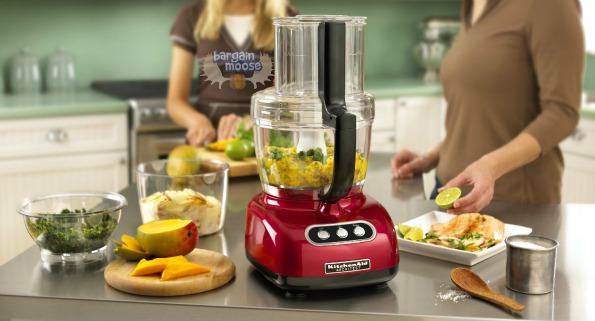 Amazon Canada has an amazing deal on a Candy Apple Red KitchenAid Architect Series 12-cup Food Processor with three bowls for only $169, regularly $399.99.
I actually bought this exact food processor from Amazon just before Christmas and I have to say that it was love at first sight. Not just that it is beautiful, but everything it does for me makes me feel so, well, special.
This is an amazing tool to have in the kitchen. You can literally do everything with this machine. I shred cheese and vegetables with the shredding tool. I make french fries out of potatoes, sweet potatoes and any other vegetable I can think of so my kids will eat them. I chop herbs, vegetables, fruit, and meat. I've made whipped cream extremely easily. It also juices citrus fruits, kneads dough and probably does a bunch of other things I haven't discovered yet. It has three bowls, which makes it easy to do fdifferent tasks without having to wash dishes in between. They are all different sizes too, so you don't have to wash the biggest bowl, just to chop a few herbs.
The wide mouth is great for putting in whole vegetables and it pushes in really easy with the pusher. You can also put olive oil in the tube so it will slowly drain as your stuff chops and blends.
I can't say enough good things about this food processor, it literally is my kitchen pride and joy and I show everyone who comes over how much I love it.
Shipping is free and for me it came amazingly quick.
(Expiry: Unknown)