Amazon Canada: Cross Shoulder Bag only $8.99 & Free Shipping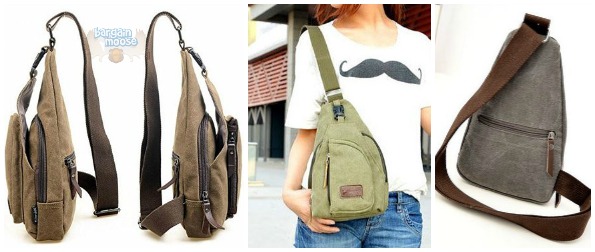 A marketplace seller on Amazon Canada is selling a basic Canvas Shoulder Bag (cross-body) for just $8.99 with free shipping. While this is not necessarily a sale price (though I think it is), it is an incredible deal for this kind of bag.
Now, here is why I think this may be a sale price, or at least a price drop from a previous price. All colours of the bag, except one, cost $8.99. That other bag is priced at $13.59. There is also another seller on Amazon.ca that sells these bags. That seller wants $11.99 plus $5.54 shipping.
A shoulder bag for $9 and free shipping - what a deal. You can choose from the following colours:
Black
Army Green
Coffee
Grey
The grey is actually my favourite colour out of the four. It has a really nice grain to it and would look pretty good paired with jeans or business casual wear.
This is a fairly small cross body bag, so some reviewers have said they do not think it works well for a man. However, it would work well for teenagers and for women commuting. The bag measures 10.6" x 6.6" x 2.7".
As for design, this bag has it all. There are different pouches were you can store your cell phone, credit cards, and keys. Then, there is the largest pouch for everything else like a book, umbrella, sunglasses case, and more. The cell phone compartment will fit phones like the iPhone 5 or the Samsung Galaxy. The three tier compartments ensure you have a place for everything and everything has a place.
As this is a shoulder bag, there is a single adjustable shoulder strap. Just drop over your shoulder and go.
Reviewers have said this is a good quality bag for the price. The size is a bit small for a man's frame and the adjustable strap is too short for a larger man's frame as well. However, even men who bought the shoulder bag thought it was a great size to carry all their daily essentials while on the go.
I assume this bag ships in from overseas, but there is no risk of duty as the bag is under $20. Reviewers reported receiving the bag in as little as two weeks.
(Expiry: Unknown)