Amazon Canada: Breville Crispy Crust Pizza Maker Only $140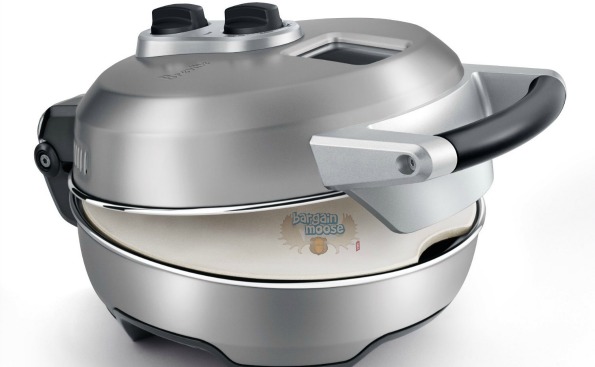 Amazon has a fantastic deal on right now if you love your pizza. Get the Breville Crispy Crust pizza maker, now on for $139.99 with a regular price of $199.99.
My family loves their pizza. Even my pickiest son will eat pizza, although it can only be cheese. My husband is a pizza aficionado, although he does like to keep it simple. I love pizza; seriously, what's not to love? However, I love gourmet and unusual ingredients. I am the one who adores anchovies and big chunks of garlic and crushed tomatoes and whatever you can throw on a pizza. This crispy crust pizza maker would make a fantastic gift for the family.
What it does
When you go to a restaurant that has brick oven baked pizza, you definitely see the difference from your regular pizza joint's pizza. The crust is perfect and that really, truly makes a pizza. Well, Breville says you can get the same effect using this machine and you can do it at home. It doesn't matter if your crust is thick, thin, gluten-free or made of cauliflower (well I'm not sure about that one), your pizza will bake quickly and crispily. There is even a viewing window, so your kids can fawn over how yummy the pizza is starting to look.
Who wants it
Like I said, you could get this as a Christmas gift for the family and store it in your closet. You'd be thankful four months from now when you've got most of your shopping done and don't have to pay the full price. I think it would also make a great gift for a kid heading off to school, as it is just a plug-in appliance. If they are heading off to residence, they could share it with their friends in the common area and instantly make a boatload of friends, simply because they make the best pizza in the dorm.
Price comparisons
Lots of places sell the Breville Crispy Crust pizza maker like Sears, who sells it for $199.99, Williams Sonoma sells it for $222.59 and Shop.ca has it on sale for $159.99, but Amazon beats them all.
Reviews
All of the reviews on Amazon are positive and for your money spent on this, that's what you want to hear!
Had my first pizza today from this oven and it was delicious. After an initial heating period it cranks out a pizza every 4 minutes and it does an incredible job on thin crust, home made pizza. I have used a turntable pizza oven before and was happy with the results but could not get the temperature to stay longer on high but this oven is far better as it hits 600 degrees.
Shipping
Of course, your item will ship free, as Amazon gives you free shipping on orders over $25.
(Expiry: unknown)