Amazon Canada: $70 Off Star Wars The Complete Saga Episodes I-VI Blu-Ray Box Set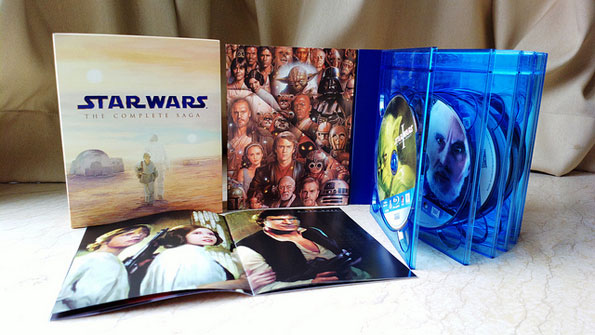 May the force be with you as you take advantage of an awesome deal on a Star Wars box set. For a limited time, you can save $70 on the Star Wars: The Complete Saga (episodes I-VI) box set in Blu-ray and get it for just $89.99 (reg. $159.99). It comes up to 44% off the original price.
Even better is that this is a Blu-Ray version. Even though technology has widely moved onto Blu-Ray, DVDs are usually the ones being discounted, so it's nice to see a deal on one of the most popular franchises in the world. When it comes to DVDs or Blu-Rays, I definitely only ever choose Blu-Rays, especially for high action and popular movies.
With a total of nine discs, six of the discs in this box set are:
Episode 1: The Phantom Menace
Episode 2: Attack of the Clones
Episode 3: Revenge of the Sith
Episode 4: A New Hope
Episode 5: The Empire Strikes Back
Episode 6: Return of the Jedi
The other three discs features extra and deleted scenes:
Star War Archives: episodes 1-3
Star Wars Archies: episode 4-6
The Star Wars Documentaries
This Blu-Ray had actually been very much anticipated, and has over 150 reviews with a total consensus of 4.4 stars out of 5. Here's what one reviewer had to say about it:
Star Wars on Blu-ray...it took a lot less time than Star Wars on DVD! And in special features and deleted scenes alone, it was well worth the wait. You can't do a box set like this without the bonus of unseen footage. The good news is, The Complete Saga is loaded with unseen special features and deleted scenes. In fact, the Tosche Station scene is worth the purchase alone. It's that great.
I have to admit that even though I'm not the biggest Star Wars fan, I can certainly appreciate a good deal when I see one. However, Star Wars fans should keep in mind the following review:
The original trilogy (without any 1997 added special effects, that is) isn't there (that was to be expected), but also, the special features of Episodes 4, 5 and 6 (the documentaries, interviews, trailers, etc.) isn't here anymore. Episodes 1, 2 and 3's second discs are nowhere to be found either.
Plus, since Amazon typically ships orders over $25 for free, you're also sure not to pay any added shipping fees.
(Image Credit: Andrew.T@NN)
(Expiry: Unknown)