Amazon.ca: CorLiving TV Stand Was $190 | Now $80 & Free Shipping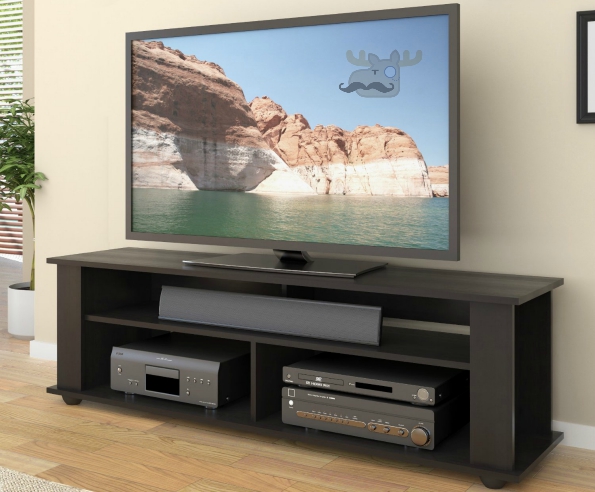 Unless you own your own home and can wall mount your television, TV stands are a necessary piece of furniture in most homes. Amazon Canada has just dropped the price of the CorLiving TBF-605-B Bakersfield Ravenwood Black TV/Component Stand from $189.28 down to $79.99. The television stand ships from and is sold by Amazon, thus it qualifies for free shipping.

Usually, price comparisons on individual pieces of furniture do not pan out but I this one did! I found the exact same television stand for $199 at Staples Canada and for $179 at Sears Canada.
I thought that Best Buy Canada had the same deal as their stand is on sale for $79.99, but they charge shipping on this large piece of furniture. That shipping cost adds on an extra $50.99 to your order = total Best Buy price of $130.98. There also is no option to pick up in store from best Buy so that doesn't work either.
This TV stand will fit up to 65" televisions with no problem. The stand itself is quite large to accommodate a weight of up to 150 lbs. The TV stand is made of medium density fibreboard in a Ravenwood Black finish. The TV stand includes a component storage area and a soundbar shelf. The television stand has ample room for all your consoles, DVD players, and more. Some room may even be left over for a part of your game or DVD collection. One review on Best Buy said:
I was looking for a tv stand which is black, sleek, low, and durable. Considering the material is not real wood, this stand is so heavy. It can really hold big tvs. Love that its simple, love to match it with my fancy-ish couch and fancy-ish coffee table to balance.
I consider a televisions stand like small shelving unit: it is meant to hold stuff, organize stuff, and have something big and heavy and expensive sit on top of it. Despite the last bit, I do not want to pay over $100 for a television stand just because it is designed to hold the weight of a TV.
I think this television stand is a great buy especially because it fits really large televisions and is only $80. However, the free shipping at Amazon Canada really sells this deal because shipping is going to cost a lot (as you can see from Best Buy Canada's extra charge).
(Expiry: Unknown)