Amazon.ca: Aukey 42W 3-Port USB Wall Charger Only $18 & No Tax & Free Shipping (EXPIRED)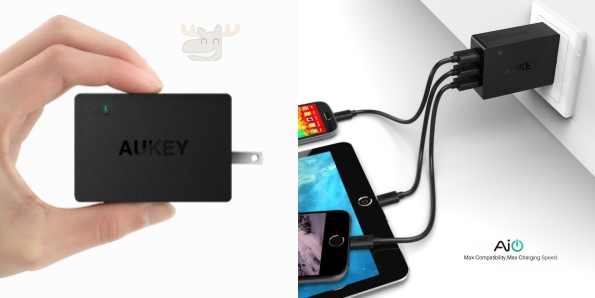 Besides external batteries, I highly recommend multi-USB wall chargers because everyone needs at least one. Right now, Amazon Canada is selling this Aukey 42W 3 Port Intelligent Multi USB Quick Wall Charger for $25.99. Use coupon code YBLTDFRX to receive an extra $8 off that price bringing the wall charger down to just $17.99 with no tax and free shipping.

You really need to watch your watts when you price compare as the higher the watts the more expensive the unit. You want higher watts as they output more power and therefore charge your devices quicker.
I figured the best price comparison would be against the four-port Anker Wall Charger with 36W. It has one extra port but a little less power. That unit goes for $29.99 right now on Amazon Canada. In fact, Anker has a 5-port 40W Wall Charger that retails for $29.99 right now and even that unit (which I own) is less power than this three-port USB charger from Aukey.
Why you need this:
Can you count on one hand how many electronic devices you have that charge via USB? I cannot count them all on one hand anymore. In my family, there are two smart phones, one android tablet, one wireless speaker, one set of boombox headphones, and three external batteries. My computer only has three USB ports and you could use up a lot of wall outlets when trying to charge all of them on a one-USB to one-wall outlet charger.
However, get a three-USB to wall outlet charger and things are looking a bit up. I tend to use three to four of the ports on my wall charger every day. Mine provides less power to five ports, therefore I would probably go for the extra wattage on my next USB wall charger purchase. This Aukey is certainly a great unit in that it is designed to provide a quick charge to your devices. Also: the price really cannot be beat. I have found 25W chargers that cost as much as this unit after the coupon code.
Pick this unit up soon! I think I will be sending one to a friend of mine.
(Expiry: Unknown)