All Large Photobooks 50% Off + Free Ship @ Photobook Canada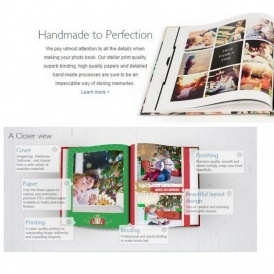 I've made a lot of different photo books for family members over the years, and I know that those gifts are the ones that have always meant the most to the recipient.
Photobook Canada has a special offer of 50% off of large photobooks, plus free shipping. Regular shipping cost varies on products with large photobooks ranging from around $12.95 to $21.99. On an 11 x 11 hardcover book that I'm designing, I noted shipping would normally cost around $12.95, but not with coupon code CANADA16 that you must remember to input during checkout.
Here are the fine details on this promotion:
50% off all Large Photobooks; sizes included are 11"x11", 12"x14", 14"x11", 15"x11" and 17.5"x12". Shipping is free for all shipping method except Priority. Limited to one photobook per transaction. Discount does not include additional pages, paper upgrade and accessories. Voucher expires July 5th, 2016. Delivery only within country of residence.
It's so easy to design a beautiful photobook using a pre-made template at Photobook Canada. You can even choose to 'autofill' the pictures you upload, into your selected template. If you want to create your own from scratch, you may do that as well.
There are more themes than you can imagine! Take a look at these template ready books that you can start filling with your own pics. right away. Themes such as travel, family, holidays, weddings, babies and kids, and romance are all there, ready for you to create your personalized book.
Shipping is free right now on the large photobooks. Normally shipping ranges from around $12.95 - $21.95 for those.
(Deal expiry: July 5, 2016)