AliExpress: Minecraft TNT Key Chain Bomb Was $7 | Now $2.61 & Free Shipping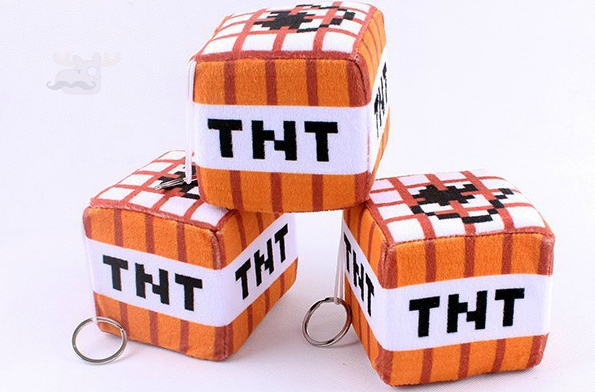 For the Minecraft fan in your family, purchase this Minecraft TNT Key Chain bomb that measures 10 cm tall. This detailed little TNT Bomb is sure to be a favourite accessory that your child can hook on their backpack, book bag, and more. Originally $6.68, this Minecraft TNT bomb is on sale for $2.61 with free shipping.
Seriously, you are playing under $3 including shipping for a cute little Minecraft key chain featuring a soft, plush TNT bomb from Minecraft. The little bomb is stuffed with cotton to give it structure. These are great for tossing around like a ball or your kid can attach it to the outside of his/her backpack to show just how big a fan of Minecraft they are. I think that will be where this key chain mainly ends up, attached to the handle or zipper pull of a backpack.
The size is pretty generous, as the bomb measures approximately 10 cm, which is just over 4" square. You can buy more than one and stack them. You can even disconnect the keychain bit and use them as regular plush to add to your Minecraft plush collection. After all, what is Minecraft without a few TNT bombs?
Of course, I chose the least expensive seller on AliExpress that also offers free shipping. This seller has 90.5% positive feedback. You know for sure that these plush TNT cubes were priced higher as each review shows the price each person paid. They all paid $4.98 USD each and were pretty happy with the product and the price. One reviewer said:
Good quality. exactly like on the picture. Arrived quite fast. Thank you very much. :)
Given that others were paying well over double the price and were happy with the product, I could not resist posting this little deal. These little cubes of fun will only be at this price for another day, so pick one up ASAP. These make fantastic stocking stuffers as well because they are small but meaningful.
(Expiry: 22nd September 2015)