AliExpress: LED Lucky Star Luminous Pillow Only $11 & Free Shipping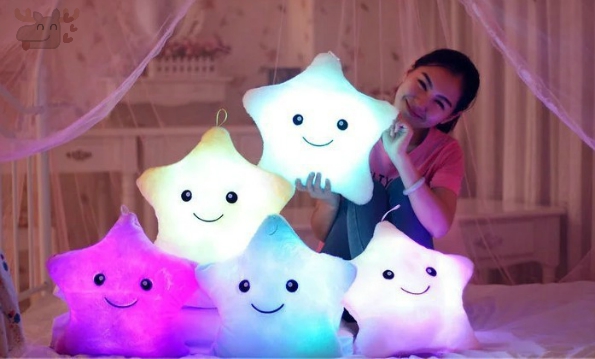 A few months ago I found the most ADORABLE LED pillows ever! However, the price was well out of my spending range so I started looking for less expensive version. I just found these Decorative Pillows Colourful LED Flash Lucky Star Luminous Pillows on sale at AliExpress for only $10.82 with free shipping!
There are many listings for these star pillows but this was the cheapest listing on AliExpress and indeed the cheapest I could find these adorable pillows. In the Amazon Canada marketplace, these pillows would cost you $26.28 with $3 shipping.
Now, the price may fluctuate a bit because of currency exchange, but it should only be by a few cents. This deal is available TODAY only (ends in 13 hours) but I have a back-up listing for you. You can purchase them for $11.10 through this seller (for 10 days more) if you miss the original deal. I am quoting the price in Canadian dollars but the website might redirect you to US currency as the default. You can change your currency in the top right hand corner.
These are seriously adorable. They are little plush stars with faces on them. Each star comes in your choice of five colours: white, blue, yellow, pink, or purple. I think the yellow is my favourite because it is the colour of traditional star icons. Inside, these pillows have an LED light that lights up the plushie. These are fantastic little companions for your child at night. I am an adult and even I would love to have one of these pillows for curling up with at night.
AliExpress is a company out of Hong Kong. As you receive free basic mail, it can take 15 to 34 days to receive your order. Essentially, you will need to have a bit of patience when waiting for your cute little pillow.
What a perfect little gift! I would love to see a bunch of these under the tree this Christmas. You could even just put the pillows in the tree with the LED lit up. Then, your little one can find one of their gifts IN the tree instead of under the tree. What fun!
(Expiry: varies).