Alexa Pope: Cross Leggings Were $35 | Now $5 & Free Shipping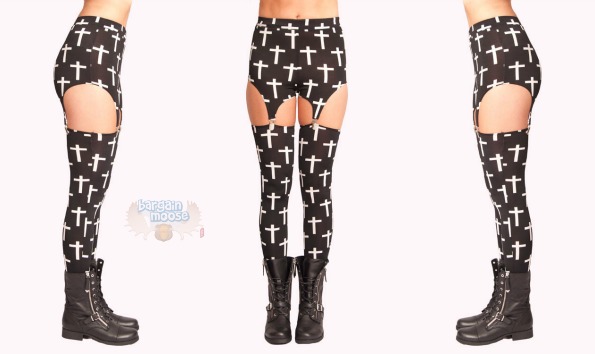 If you are looking to sport some serious style, head over to Alexa Pope to score a bargain on these sassy cross leggings. Originally $35, the cross leggings are on sale for just $5 with free shipping.
Only size medium and size large are still available.
These cross leggings are suspender style where each leg piece attaches to the brief with suspender hooks. The leggings have a black background with white crosses and I assume they are made out of a stretchy material, as most of these sorts of leggings are. Unfortunately, there is so little information on the website about them, but the model shown is wearing a small, and is 5'6, thus these should fit taller girls as well.
I wear leggings all the time, though I have never bought suspender style leggings. I love leggings because they fit my waist to hip ratio much better than jeans ever have. In addition, they feel fantastic and the patterns are always so much more fun than regular pants. I usually wear a longer top - like a tunic - with all my leggings, but that is just the style I like. If you enjoy showing off your shapely butt, then any type of shirt will do.
The leggings I buy are usually MUCH more than this; they average around $75 a pair. Even though these are a less expensive brand, they are usually worth nearly half that amount so $5 is still a pretty awesome deal. Even better, Alexa Pope offers free shipping on any order with no minimum. That means you pay only $5 plus your province's tax - that is it.
If you are shopping at Alexa Pope, check out some of their other deals. This Black and White Midi Dress was $38, and is now $10. The Geometric Pant is also just $10. There are several other deals in the sale section as well.
(Expiry: unknown)