Afunta Mini Flashlight Only $4.47 & Free Shipping @ Amazon.ca (EXPIRED)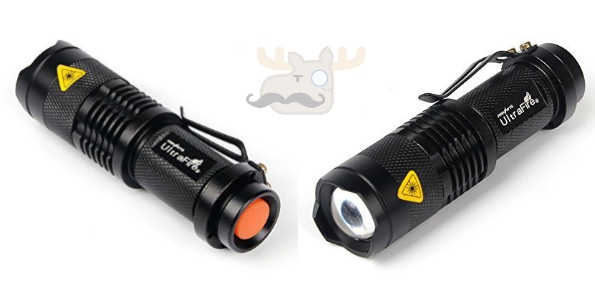 A marketplace seller at Amazon Canada has discounted the AFUNTA 7W 300lm Mini Flashlight CREE Q5 LED Adjustable Focus Zoom (With Rechargeable Battery and Charger) from $35.55 down to $4.47 with free shipping. While I do not believe that original price for a second (see why below) this is still a fantastic price for this waterproof mini flashlight with rechargeable battery and charger included!
Only the black flashlight is discounted this steeply with others retailing for a couple dollars more. I think this is a really cool item because you are paying less than $5 for a flashlight, rechargeable battery, and a charger for the battery. I think the charger and the battery might be worth the entire cost of the unit alone as chargers are not cheap.
Now, the flashlight has some interest tricks of its own. It is a compact unit that is waterproof and skid-proof as the case is made of aluminium alloy. It is mini in size but very bright and can have a blinding effect if you are not careful. You can adjust the focal range to suit your needs - from a broader to a narrower beam.  The flashlight comes with an external clip to hook on your belt or your backpack.
Now, you get the flashlight, a 14500 li-ion AA battery, and an indoor battery charger for the AA battery. The battery charger has an LED indication light for charging: red means you are charging and green means you have a full charge. Make sure to tear off the plastic cover on the battery before using your flashlight.
This little flashlight is great for hunting, climbing, caving, camping, and other outdoor activities.
Now, I price compared this unit with the Original manufacturer. Afunta sells this set for $12.99 USD = $16.98 CAN with today's conversion rate. Thus, the original price listed by the Amazon Marketplace is rather high but this is still a good deal as you are getting nearly 75% off the original manufacturer's price.
These flashlights make excellent stocking-stuffers for Christmas if you have an outdoorsy type in your family. When you are going to the bathroom in the middle of the night while camping, it really is imperative to have your own flash light to make sure there isn't any wildlife lurking between you and the outhouse.
(Expiry: Unknown)