70% Off Mod Collage Jewellery Display - Now $9.50 & Free Shipping @ Chapters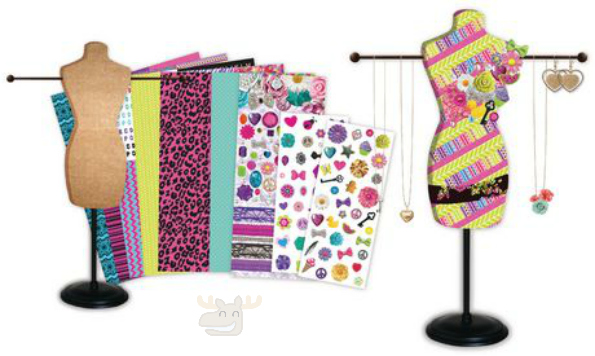 If you are looking for a great project for girls' sleep overs or are shopping for Christmas gifts already, then take a look at the Mod Collage Jewellery Display. Originally $31.95, this arts and crafts set is on sale for just $9.50. Receive free shipping on any order at Chapters Indigo right now.
Your child can create a unique jewellery display stand with this creative kit. The kit includes a paper mache jewellery stand in the form of a mannequin, and a whole bunch of accessories for decorating. You can create your own designs with the decorative papers, puffy stickers, foil stickers, gems, pearls, paper flowers, a fabric flower, charms, sequins, glitter, sequin trim, lace trim, ball chain, and letters. These decorations give you a myriad of ways to create your own unique jewellery stand. Even if you bought a couple of these sets, no two jewellery stands would come out the same.
The set includes an instructional design guide with tips and tricks on how to create your own designs. This kit is certainly for the lovely young ladies with a creative bent. This would make a fantastic gift for ages eight to 15 (approximately), though you know your child the best.
I do think that Chapter's original price is a bit of a mark-up. I found this same set on sale from the original manufacturer for $15.99 USD = $21.41 CAN. I also found the same set currently on sale for $16.96 at Walmart Canada. However, I could not find the jewellery display set for cheaper than the current price at Chapters.
This is a cool little toy that would usually be well under the free shipping range. Thankfully, Chapters has no minimum for their free shipping - three days only. I think this is a great buy when you can also get it shipped to your home for free. Grab a couple for Christmas gifts.
(Expiry: 1st October 2015)