70% Off Lolë Women's Jade Jacket Was $150 | Now $45 & Free Shipping @ Live Out There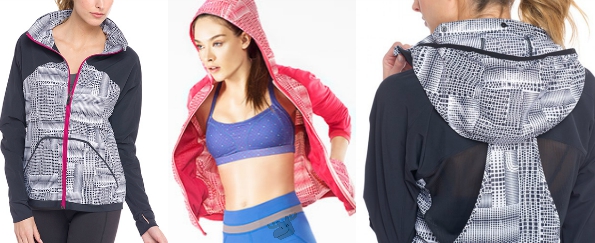 Among brands for women's wear that I like, Lolë is one of my favourite brands because they know how to make tops for curvy women. In Live Out There's awesome final sale section, I found this Lole Women's Jade Jacket on sale from $149.99 down to $45 with free shipping. That is 70% off the original price!
Currently, the Jade jacket is on sale for $90 @ Lole Canada. This jacket is sort of a hybrid as it is made from fabric that is then made to be windproof and water repellent. Essentially, you have the comfort of the fabric with the protection of shell. The material is a recycled polyester blend that is made from recycled plastic bottles (soooo cool!). I also like how it has a soft comfy appearance instead of something ridged. It comes with an attached hood as well to keep your head dry and your ears warm. Sizes medium, large, and extra-large are still available in this jacket in two different colours.
The attached hood is retractable so you do not always need out when you are wearing the jacket. There are two patch pockets at the front for storing essentials. The sleeves have thumb holes, which are seriously the best thing ever. I think all shirts should come with thumb holes. I like how the zipper is in an accent colour on the black jacket and in a pale colour on the Rhubarb colour. Both really add to the jacket's design.
For ventilation, there are mesh inserts throughout the jacket including two in the back. These will help keep you cool post-workout or just while you are running errands during the day.
Lole makes quality athletic women's wear. I own one of their shirts and I will be surprised the day I have to toss because it is incredibly good quality material. I have also had good experiences with Live Out There Canada so far. They shipped my first and my second order quite fast. While I am working with their customer service right now to resolve a small issue, so far it looks very good and I have high hopes for an easy and speedy resolution.
(Expiry: unknown)