60% Off Le Creuset 26 cm Iron Skillet Was $240 | Now $99 & Free Shipping @ Amazon.ca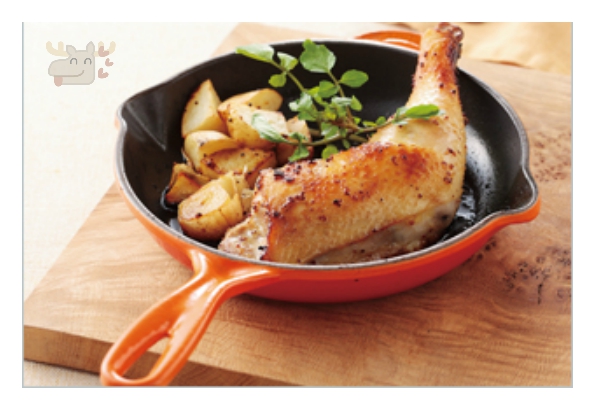 I really enjoy Le Creuset cast iron ware, thus this sweet deal on a Le Creuset 26 cm Iron Handle Skillet caught my eye. Originally $240.80, the cat iron frying pan is now on sale for $99.04 in flaming orange. As this cast iron pan is over $25, it will ship to your home for free.

I price compared this 26 cm skillet at other online retailers where it retails for: $144.99 @ Consiglios, $265 @ Hudson's Bay Canada, and $189.99 @ Gourmet Warehouse. Given that this sale price at Amazon is approximately $50 less than the nearest competition, I figured this was a hot deal.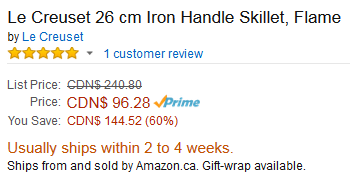 You can see the deal in the screen capture above. Amazon Canada has a habit of changing prices very quickly, therefore I am starting to take screen shots so Moosers know I am not just imagining these deals!
I own one of these skillets and I use it frequently for stir-frying vegetables. I have a separate pan for cooking meat right now, but I will transition over to cooking meat in this pan later. I will admit, I have not mastered the cast iron pan. I still have no idea how to cook eggs in one without leaving most the egg on the pan. I think I need to google that.
By the way, if orange is not your colour then you can pick up the Cherry colour for just $99.04.That is just a few dollars more for the colour you want.
Now, I NEED to mention another couple deals because they are insanely good as well. The Le Creuset Enameled Cast-Iron 2-1/4-Quart Saucier Pan (Red) is on sale from $290 down to just $127.61. As it is backordered it will not be the main pot to 'show up' thus you need to look under the wishlist button for the one sold by Amazon.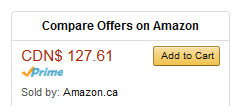 Lastly, I have to mention this gorgeous Le Creuset Enameled Cast-Iron 9-3/4-Inch Round Tarte Tatin Pan (Red) that was $160 and is now $78.44. This looks like a perfect baking pan for casseroles, tortes, yummy deserts, and more. The prices for all three of these Le Creuset items are well below any competitor, thus this is a great time to pick up a few new pieces of Le Crueset cookware.
(Expiry: Unknown)