50% Off Select Michael Kors Shoes & Free Shipping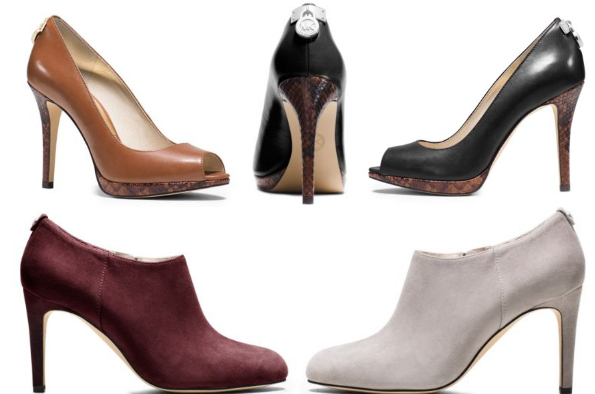 When I see Canadian women in designer clothing, I generally see some nice Michael Kors clothing and shoes paired with a Coach bag. If you want the designer look for less than the designer price, check out these gorgeous shoes for 50% off! The Sammy Suede Ankle Boot is an awesome way to enjoy your heels in the winter. Originally $199.99, it is now $99.99. The Hamilton Leather Peep-Toe Pump is your basic black (or brown) pump at its finest. Originally $199.99, this shoe is also only $99.99. Receive free shipping on your order as well.
Let's first talk boots. The Sammy Suede Ankle Boots come in a gorgeous Merlot (like the wine) colour and a pearl grey. I am all for light colours on other parts of the body - but light grey shoes would be horribly hard to get clean. Go for the Merlot! They are a deep, wine red that looks decadent and inviting on your feet. They can be statement pieces or blend into the background if need be. As your entire foot is covered up to the ankle, these make great heels for the winter. Your feet stay warm and stylish at the same time!
The Hamilton Leather Peep-Toe Pump is certainly no slouch. Every woman needs a pair of black pumps in her wardrobe and these are not only a fantastic designer brand and a sweet price, they are also a great looking pair of shoes. Surprisingly, the brown colour is nearly out of stock with only the outlier sizes (small and large) in stock. The black has nearly complete stock. I would totally suggest the black. Black pumps match with every single dress you will ever wear.
Both shoes are work appropriate. The ankle boot can carry you through the spring, fall, and winter with ease. Then your new pair of pumps can sub in for special occasions, late-spring, summer, and early-fall as well. Your entire year's high-heel needs covered in just two pairs of shoes.
(Expiry: Unknown)