50% Off Disney Sofia 10" Bedtime Doll - Now $20 @ Walmart.ca (EXPIRED)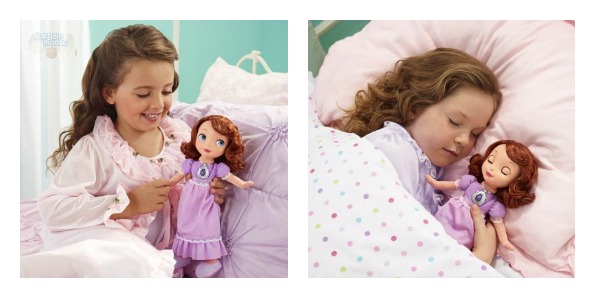 I ran across this 50% off deal from Walmart on the Disney Sofia 10" Bedtime Doll perfect for young girls. Originally $39.94, the sleep doll is just $20 with free shipping. Online stock is already limited.
The same doll sells for $39.99 at Toys R Us Canada. A marketplace seller on Amazon is also selling the doll for $52.99, which is highway robbery if you ask me. I wanted to see what the stock was like in Walmart stores, but I kept getting "Sorry, this item is currently not available in stores" so this doll may be an online only item.
Sofia is cute and cuddly. Young children will enjoy her soft body that is perfect for cuddling up to while in bed. Because of her soft body, she cannot stand alone. She measures 10" tall and is designed for ages three to five.
She is not a simple soft doll; rather she comes with several bonus features. Her eyes close when you lay her down and open when you sit or stand her up. The jewel on her chest glows when pressed, just like in series. The doll also 'says' 10 phrases that your child will enjoy and make them feel like they are having a sleepover with Sofia.
For the most part, the reviews are positive. Here are a few I found:
Granddaughter loved it. She was surprised when it talked. A perfect doll to sleep with and carry in the car and on the plane.
and...
This doll is much nicer quality than other Sofia dolls I've seen on the market. My 5 year old niece (a big Sofia fan) is sure to be love this Christmas gift.
The only 'complains' I have seen is one person who said that the hair could be nicer, another who wished the doll was bigger, and another who said they thought it was a bit pricey. Well, for $20 with free shipping I think this is a good price for a soft doll with closing eyes, a glowing jewel, and a sound box with 10 different phrases.
This will not come in in time for Christmas, of course, but now is the perfect time to buy birthday presents and stow them away in the back of your closet. I know several people with birthdays in January so I always have to buy their gifts around Christmas and Boxing Day.
(Expiry: Unknown)