50% Off Chick Kids' Slouch Slippers - Now $11 & Free Shipping @ Hatley Canada (EXPIRED)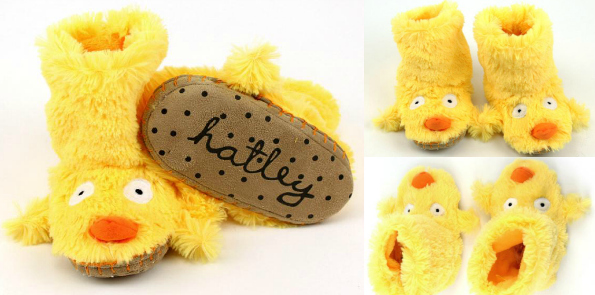 Keep your children's feet warm this winter with a 'chick' new pair of slippers. These Chick Kids' Slouch Slippers are currently on sale from $22 down to just $11. This weekend, Hatley Canada is also offering free shipping on all orders so these slippers will ship free.
These slippers are super cute and super cosy as they are covered in faux fur of sorts. The animal faced slippers have a micro suede sole for durability while your little one tears around the house. These cute little chick slippers have a slouchy design and they are lined with fuzzy fleece for optimal cosiness. Talk about pampered toes!
There are three sizes available:
Small: sizes 5 to 7
Medium: sizes 8 to 10
Large: sizes 11 to 13
These slippers are also machine-washable. Personally, I think that everything a kid wears or touches should be either machine washable (clothes and stuffed animals) or dishwasher safe (toys) as kids are notoriously messy.
Hatley Canada sells a while variety of animal kids' slouch slippers but this is the only pair on sale. Personally, I think these do not look much like chicks but they look more like dogs. I see the beak as a nose, the wings as ears, and those big eyes as... big eyes.
No matter what way you see these slippers, they are a fantastic price along with the free shipping option. Stick a pair of these under the tree for your child to unwrapped on Christmas Eve or Christmas Day.
As Hatley is offering free shipping this weekend, it is a great time to check out the rest of their outlet. I like this "Bearly Sleeping" Women's Sleepshirt that was $32 and is now $16. These are very easy to give as they are one-size fits all. This is because the shirt is designed to be over-sized.
Items in the outlet start at just $2.70 so there is something for every budget. This All A Twitter (Winter Birds) Sticky Notes was $4.50 and is now $2.70. These winter-themed sticky notes would make excellent stocking stuffers as everyone can use a pad of sticky notes.
Shop these deals and more at Hatley Canada this weekend.
(Expiry: 22nd November 2015)