40% Off + Free Shipping @ Garage & Dynamite Canada Cyber Monday Sales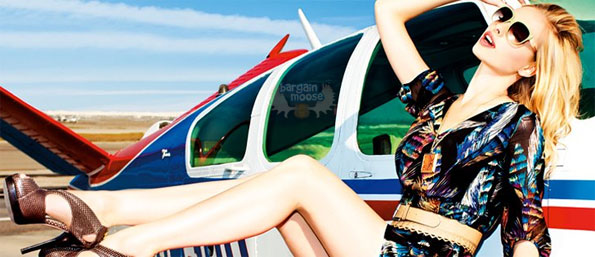 Ahhh, don't you just love Cyber Monday? It's not over yet either! Both Dynamite and Garage are offering 40% off everything, along with absolutely free shipping on any order. Even better is that you have until tomorrow to shop but keep in mind that sizes are going quick, especially in the sale section!
Did you know that Dynamite and Garage are sister sites? You can navigate both sites by simply clicking one or the other from the top of any page and the best part is that you can shop at both and only check out once.
Personally, I love shopping at Dynamite. In the winter, the very first category I ever check out when shopping is the sweater one and surprisingly, I found the shaker stitch sweater already on sale for $23 (reg. $29.90), which means that at checkout, it comes down to just $13.80! It even has this positive review:
Bought this in the black and white a month ago and am really pleased! It is so soft and while it fits loose, it doesn't make you look 'boxey' and is perfect for relaxing days or to go out for a nice lunch or coffee date in. It seems like it will fray a little bit after washing but mine has so far held pretty well!
Since it's my little one's very first Christmas, we plan on doing family Christmas presents and I have already picked out the fit and flare dress as it looks stunningly elegant. Available in either red or black, it drops down in price to just $ instead of $69.90. It has mesh detailing at top and bottom.
Garage, on the other hand, is more suited for teenage girls but even adults can find something suitable! You can get 40% off nearly everything but outerwear is 25% off. I particularly love the utility wool coat, especially since it gets reduced t0 just $60 at checkout from a sale price of $80 (reg. $99.90). Still available in all sizes, it falls right under the bum, is wind proof and can even be worn in below freezing temperatures, though I wouldn't necessarily wear it in -20 Celsius! It zips closed in the front and has large snap button closures. Here's what one reviewer had to say about it:
I wore this coat today (1°C, feels like -4°C & snowing) and it was perfect. I only wore a t-shirt so it was a little bit cold (but i stayed like 3 minutes outside so it doesn't really matter) but I'm pretty sure if you wear a sweatshirt you'll be okay. I'm tall so I have long arms & had to take a L; it's kinda big on me but you have enough space to wear everything you want under.
As always, all Dynamite promotion codes and Garage coupon codes may be found on our forum.
Happy saving Moosers! :P
(Expiry: 2nd December 2014)