4 Piece Medical Supplies Costume Set Only $1 @ Walmart.ca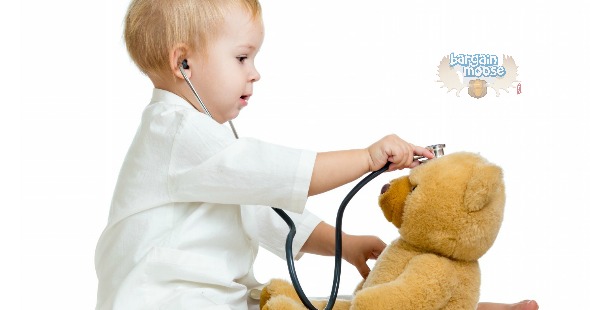 If your little one is like mine, then they will love playing dress up and pretending to fix all of their stuffed animals with their new Kid Connection Medical Costume Set. While supplies last, you can shop at Walmart.ca and purchase this 4 piece Medical Supplies Set for only $1. The previous price was still pretty awesome at $2, but for $1 how can you go wrong?
This adorable 4 piece Medical Supplies Set will give your little one the chance to play all sorts of new roles. They can diagnose the family dog or perhaps one of their siblings with a cold or broken arm. The will also have the supplies to make sure their patient is recovering well. All you need now is a little pouch to carry all of the supplies in and some scrubs for your little one to wear. The Fisher Price Medical Kit sells for $24.99 @ Toys R Us Canada and only has a few more items like the pouch, bandage and blood pressure cuff.
This Kid Connection Medical Costume Set for only $1 from Walmart Canada contains:
Stethoscope
Needle / Syringe
Otoscope
Reflex Hammer
There are no reviews on this product from Walmart.ca, but for $1 you can't really go wrong. Where else can you get all of the toy medical supplies to get the job done for just a buck. If your child is afraid of going to the doctor, this may also be an excellent way to get them used to the tools involved. When I was a kid I was terrified of the doctor. My older brother had one of these costume accessory kits and showed me that none of the tools hurt me, although the needle actually did hurt and he lied! There are no instructions with this kit, it is meant for pure imagination. There is also no assembly required - which saves Mom and Dad some frustration. I honestly just put together so many toys from Christmas that I am starting to feel like an elf myself.
If you are a super early bird, this might even be great to purchase and hold onto until Halloween. I honestly think every child should have a set like this to learn and play with. I promise you will never have a sick teddy bear in the household for long. This medical supplies costume set is best suited for children who are ages 3 to 5. Walmart also includes free shipping in all of their prices.
(Expiry: Unknown)