2 Anti-magnetic & Anti-static Tweezers for 77¢ & Free Shipping @ Amazon.ca *HOT* (EXPIRED)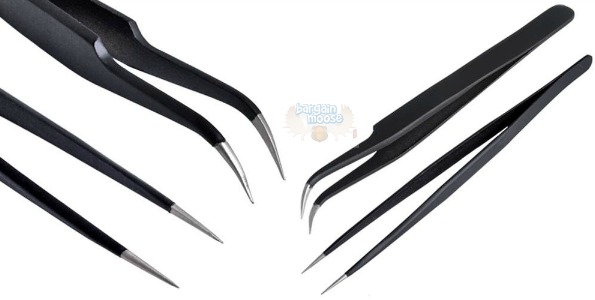 You read that right my lovely Moosers, pick up a set (two) anti-magnetic and anti-static tweezers for just $0.77 (originally $5.99) with free shipping! This offer is through a secondary seller on Amazon but the seller has good reviews so I felt it worth posting.
What I really like about this deal (besides the price) is that the set includes one curved pair of tweezers and one straight pair of tweezers. When I was recently taking apart and then putting back together our PS3, I would have ransomed a couple useless screwdrivers for a pair of curved tweezers. Some of those screws were in awkward places and if you accidentally dropped the screw in sideways, then it was a nightmare to fish it out again.
The tip of the curved tweezers angles at 45 degrees, thus it is perfect for picking up small things. Use them for art projects or fixing items with small parts like watches and clocks. The regular tweezers will be as functional as your usual set of tweezers. Ours always seem to go missing so I really should buy another pair.
For 77¢ and free shipping, you really cannot go wrong with this deal. Even if they were poor quality, you are out less than a dollar. However, the reviews on these tweezers are positive. Check out these comments:
Do not be fooled, these may be low cost but are a great product, high quality, but just give yourself time to receive the product!
and...
These are really great tweezers! Inexpensive and good quality product. They are very precise.
Nothing more to say!
Another seller has them for one-cent less but has absolutely no reviews. I am always cautious to buy from a seller with no reviews so I went with this bundle from a reputable seller with good reviews. It sounds like it may take a while for you to receive your product, so just stick your order form away in a folder somewhere and do not worry about it for a month or so. I assume these are coming in from overseas.
(Expiry: Unknown)