Walmart Canada: Playtex Diaper Genie Elite Disposal System Now $28.94/Was $44.97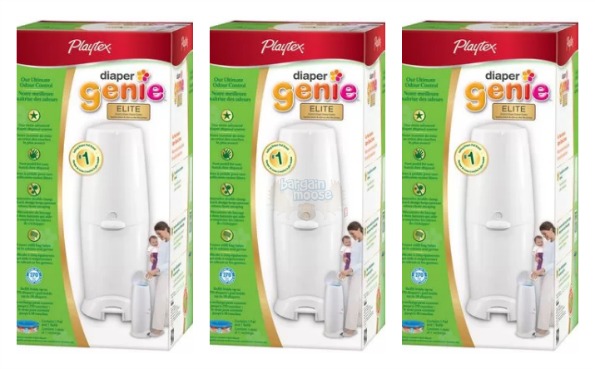 If you are pregnant or a new parent or need to buy a baby gift for a shower, you will want to check out the Anniversary Sale happening at Walmart Canada.  I found a great deal on the Playtex Diaper Genie Elite disposal system.  The regular price was $44.97 and it is now on sale for just $28.94.
You may be thinking to yourself, "why can't I just use a regular garbage can instead of buying a Diaper Genie?". The answer is you can, but it is just not the same thing.  We have two Diaper Genies at our house and there has been zero smell coming from them with dirty diapers.  The floor that does not have one (in the basement) and instead has a garbage for diapers smell after just one or two diapers get thrown out.  I could not believe the difference a Diaper Genie actually made with eliminating the odours of dirty diapers!
Here are a few of the reasons why a Diaper Genie is better than a garbage can:
Patent pending double-locked pail design and multi layer refill seals in odour and germs
Anti-microbial protection inhibits odour causing bacteria
Diapers only touch refill film, not the pail, so no messy residue is left behind
Foot pedal allows for easy, hands free opening
Ergonomic, no need to bend down
I really cannot say enough about this Diaper Genie.  Like I mentioned above, I have two of them- one from a baby shower gift and the second one I bought myself when I realized how good it was.  It gets a 4.1 star rating out of 5 for it reviews, which is pretty awesome
They also have the Diaper Genie refills on sale right now to go with your Diaper Genie.  The regular price is $22.93 but they are on sale right now for just $18.94. A little tip to save money in the future, you don't actually need the Diaper genie brand to refill them.  You can use any no name ones or other brands and they will fit just fine.  At this sale price however, it is worth grabbing a set.
As a nice little bonus, you will get free shipping on your entire order so there will be no additional charges.
(Expiry: 25th September 2014)