Walmart Canada: Fisher Price Diaper Bag Only $20 (Was $40)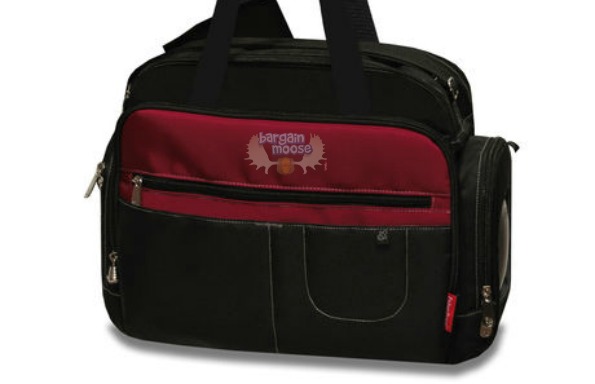 Get the Fisher Price FastFinder Carry All diaper bag for only $20, was $39.97 at Walmart.
Being a new mom means carrying a lot of stuff. I don't have a diaper bag anymore, but sometimes I wish I did so I could fit in all the stuff my kids give me to hold. My minimalist purse just can't handle it. When looking for a good diaper bag, you don't need fancy labels or compartments you'll never use. You need a space to put your diapers (and all the rest of the gear you might need, but probably will never use), and you need to be able to find it all, and usually fast, since you'll have a wiggly baby or toddler waiting for you.
The FastFinder diaper bag is simple and easy, and that's really what you need. It has all the necessary pockets:
insulated bottle pocket that fits two bottles
pacifier pocket - because trying to find that at the bottom of a diaper bag is not going to happen (until you get home that is)
wipes pocket - because doing the one-handed wipe while holding down your worm is not possible if the wipes are buried in the bag
A changing pad is also included. This diaper bag comes in basic black, with no Winnie the Pooh on the side to embarrass you, because, you know, now that you are a mom, your bags should only have cartoon characters on them. Also, don't forget Dad might want to take the baby places too, and he isn't that interested in the pink or purple floral bag you might have chosen. The few reviews I see on Walmart stress how big this bag is, which, if you like to be really prepared is so important.
I price compared this bag on other sites and didn't find it at all as low as Walmart. Amazon.com carries the bag for $24.95.
Shipping is free because this is of course Walmart, who loves to ship everything for free.
(Expiry: Unknown)