Udder Covers: Get a Free Udder Cover When You Pay Shipping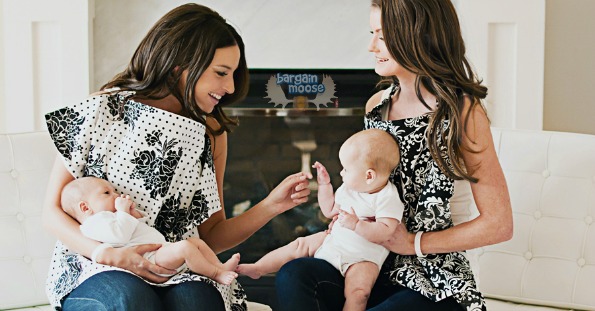 Udder Covers has a coupon code for a free Udder Cover (worth $34.95) when you pay the shipping cost of $12.95.
Click here to get  your free Udder Cover @ Udder Covers
Coupon Code: FREECOVERS1
Discount: Free Udder Cover
Expiry: Unknown
Udder Covers are very well-known and loved nursing covers. They are fashionable with beautiful designs and made from 100% breathable cotton. The stainless steel rings at the neckline let you easily adjust to keep baby covered, but allow you to maintain eye contact with baby. You can even custom embroider them with your baby's name or anything you'd like for a charge of $6.95 right now (regularly $9.95). This means you only pay $19.95 for the free Udder Cover, embroidery and the shipping, which is amazing!
I nursed for many years and it can get tricky when you are in public, if you aren't privy to not being covered. I knew ladies who didn't care, and sometimes I didn't either, but in some situations, especially with my first, I always wanted to be covered. I used a blanket, which was cumbersome, because baby could easily pull it off at inopportune times, and it could also get very sweaty under there for me and babe. Udder Covers are great because they are light, have the tools to keep it on you properly and they look nice too.
The gift sets are also great, and are only $4.95. They include the Udder Cover, a Milk Bands bracelet and washable nursing pads. This would make a great gift for a new mom.
This item does ship from the U.S., but because the value is less than $20, I don't assume there will be any taxes or duties.
Check out the other coupon codes for freebies from Udder Covers in the Bargainmoose forum.