EvyMama Canada: M Coat Now Just $425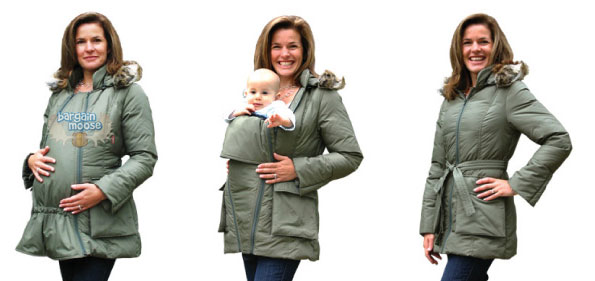 Winter is fast approaching but if you're pregnant or have a baby, then you're going to need a coat! The M Coat is currently on sale for $425 at EvyMama, down from the original retail price of $480.
All of you mommies and mommy-to-be's are probably thinking: "why the heck would I buy this M coat, especially since the sale on it isn't even the biggest". Granted, the discount only amounts to about 12% off the original price but given that there is no other coat like it and almost everywhere else, it's available for its $480 full price, I figured it was worth a mention here. The cheapest I found it anywhere else is at Ella Bella for $450 but their sizes are currently very limited.
When I was pregnant last winter, I wore my Canada Goose jacket for as long as I could but eventually, my belly got to be so big, that I had to improvise something because I obviously needed to stay warm but I didn't want to shell out useless bucks on a coat that I would never wear again due to it being too big the following winter. I definitely wish I would have known about the M Coat because it can be used during pregnancy, as a baby carrier and even as a normal coat.
I purchased this jacket before my daughter was born & used it while pregnant. After she was born (in freezing cold January), I carried her everywhere in a sling inside my jacket. Even on the coldest day this winter, we went for a walk in it together...and she's now over 2 years old! I wear it without her in it now too as an everyday winter jacket with the tie around the waist. Totally worth the money!
I definitely love that this coat can also be used as a baby carrier. I can't speak from experience just yet but I can just imagine having to trek around in the snow with a stroller and I'm definitely not looking forward to it. Plus, you can use this coat to take your baby on plenty of winter activities (as long as the weather permits of course), like walking outside, visiting the sugar shack, etc.
Since EvyMama ships orders over $300 for free, you're also sure to get this coat shipped free.