Cuddle of The Week: Silkberry Baby Toddler Duvet 50% Off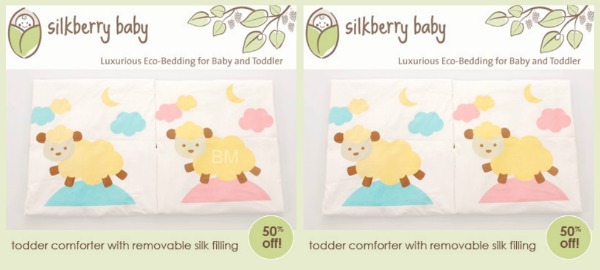 This is a soft True Cuddle, get 50% off your choice of Silkberry Baby Toddler Duvet - in blue sheep or pink sheep. Regularly priced $98.99 you can get one for only $49.49 + shipping.
About the duvet:
The comforter can be used year-round because of the removable filling. It can effectively hug the body to keep it warm and release moisture because of the mulberry silk floss filling properties. With proper use, no washing or dry cleaning is required due to silk's mold and mildew resistant feature. The 2-in-1 featured comforter is also low maintenance. Simply wash and dry the cover and insert the filling back in.
Sounds lovely. I believe in eco-products, especially for young ones and this one is such a lovely idea!
Deal expires: 2nd, August 2011 (or when they sell out)