Chapters Indigo Canada: Skip Hop Duo Signature Diaper Bag 20% off (Now $57.60 | Was $72)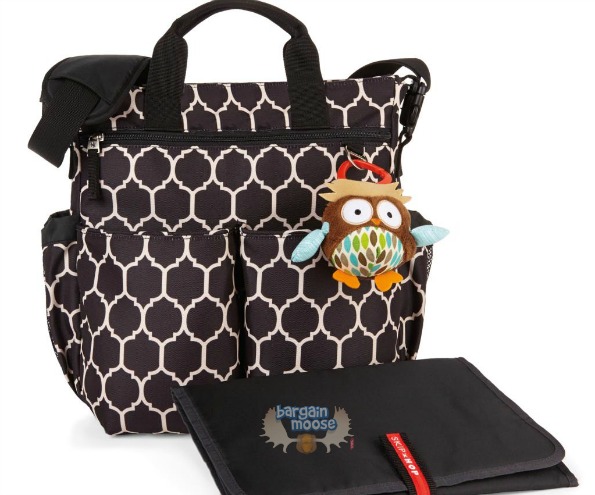 Chapters Indigo is offering 20% off Skip Hop Diaper Bags and Accessories. If I were in the market for a new diaper bag to buy, I would have to go with the Duo Signature Bag in Onyx Tile, regular price $72 it is now $57.60.
A  functional diaper bag is key to staying organized when you are juggling a new addition to your family.  Most of the time you may feel like you are packing half the house just to go grab coffee or "pop in" to the grocery store, at least I did. I particularly like the Skip Hop line of diaper bags and accessories for many reasons. The subtle yet stylish designs make the fact that it will double as your purse for at least a year a little easier to swallow. In addition, the low-key patterns make the bag not only gender neutral for the bambino but also for the parents, giving your significant other more confidence to lug the bag around without feeling self conscious.
But above all else, I especially like all the thought that has gone into the design of the Skip Hop line of diaper bags. The magnetic closure allows easy access to your contents while still keeping them secure, the zippered pockets for personal items allows you to tuck your keys or other valuables away so you aren't digging for them and the exterior pockets make it easy to reach toys, formula, binkys or other mind-saving, baby-pleasing tools. As well, the protective coating on the material makes it quick and simple to clean up spills and messes keeping your baby-purse looking fabulous! One other feature that I really appreciated when my youngest boys were little was the Shuttle Clips, these converted the bag from a shoulder to a stroller bag.
This same bag comes in several different patterns and colours and of course there are other variations with the same principals. If you are looking for something completely different, this Skip Hop Versa Expandable Diaper Bag definitely doesn't look like your typical diaper bag, regular price $85, on sale for $68. It has also received rave reviews, like this one:
I love this bag! I'm on baby #2 so I feel like I learned a lot from the first one. What I really love about this bag is that empty, it is a VERY light weight bag. I compared to other bags, some that were over a hundred dollars more than this one, and this was very light weight. I didn't want to lug around 20+ pounds of baby gear on one shoulder then a baby in the other arm.
I shopped around for this bag and Chapters Indigo definitely has the cheapest price. As always Chapters Indigo offers free shipping on orders over $25.
(Expiry: unknown)