Best Buy Canada: Ju Ju Be Messenger Diaper Bags Only $60 ($100 Off)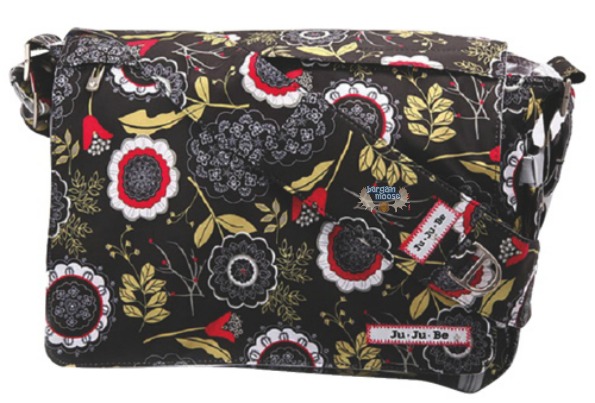 Best Buy has a fantastic deal on Ju Ju Be diapers bags, now $100 and selling for only $59.99.
Ju Ju Be diaper bags are well worth the money you pay for them. These bags are durable, trendy and very functional. Full of pockets for everything you need and so many features, they are impossible to count. The anti-microbial lining keeps germs from growing inside your bag and the crumb drains let crumbs drain from the inside of the bag! The Teflon coating means sticking stains won't stick either. So, no crumbs, no stains, no germs - too bad they couldn't make kids this way!
Some luxury features include a picture pocket so you can show off your little dirt eater, a mommy pocket with an extra-long key clip, because there is nothing worse than juggling a baby and a diaper bag with your keys at the bottom of it. The mommy pocket also includes a cosmetics pouch and a sunglasses case. The adjustable shoulder pad has memory foam and grippy underneath so it doesn't slide off your shoulder every 30 seconds. I'm starting to realize this bag has my patience in mind. They even thought of magnet, quiet closures because you know that everything, and I mean everything, wakes up that sleeping baby. If you are worried that a bag this good can't be thrown in the washing machine, you'd be happily wrong.
I price compared this bag and they are definitely over $100 at other stores, so this is a fantastic deal. I love the patterns, although I don't know which one I would choose.
Shipping is free on these bags.
(Expiry: 21st January 2014)