BabySTEALS.com Deal: 28% Off BambinOz Anywhere Chair (+ 2 Different Deals Daily!)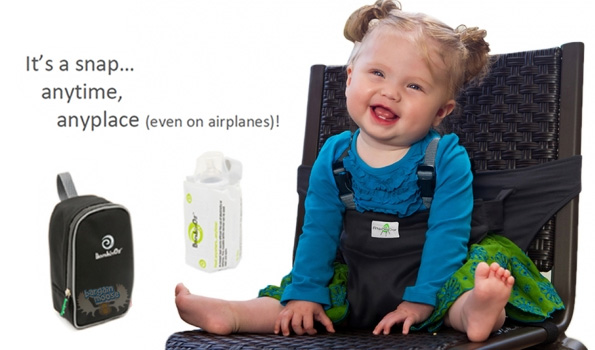 First thing's first, if you have never heard of Baby Steals, then you are definitely in for a treat. They release different deals, or "steals", twice every day: once at 8AM and again at 8PM PST. Keep in mind that all deals sell out quickly, so you need to act quickly!
Today's 8AM deal for instance (March 30th, 2014) is on the BambinOZ Anywhere Chair with a bottler warmer. I looked up the BambinOZ and found that it's $34.95 on Amazon.ca. For any deal that you spot, however, I definitely recommend always performing a quick price check with other major retailers like Amazon, Best Buy, and Babies R Us, just to make sure that you are indeed getting the best deal out there.
In this case, the BambinOZ is actually a pretty cool product because it helps transform any chair into one safe for a baby to sit in. This would definitely be useful for going out or even travelling, since not all places are always kid-friendly and do you really want to be putting your child into those plastic, uncomfortable-looking and germ-infested seats that most places offer?
Until the next deal rolls around at 8PM PST, you can get:
Anywhere Chair slate: 28% off at $24.99 (reg. $34.99)
Bottle Warmer bonus pack in black: 33% off at $16.99 (reg. $25.50)
The bottle warmer is very interesting as well since it requires no batteries or cords to make use of it. Here's what one reviewer had to say about it:
I was very impressed with this bottle warmer. I was going to be flying, alone, with my 11 month old baby and was starting to worry about how I was going to warm his bottle on the plane! Then, I was introduced to the BambinOz Bottle Warmer. No cords, no batteries, no fuss! I just had to snap a little disc, wrap the heating pad around my bottle, and place in the little insulated bag. I allowed the bottle to heat up for about 10 minutes. The water was actually pretty warm!
Shipping is where it gets slightly trickier because they ship from the US, but on the bright side, there is no worry of getting hit with any duty fees once the order arrives at your door because all customs, duties and taxes are immediately calculated at checkout.
Be sure to always have a look at their archive section for even greater deals on products that I can only assume had been daily steals at some point in the past. Quickly looking at it right now, I spotted several Kate Quinn Organics knot hats reduced by 87%, down to just $1.99 (reg. $15)! There is plenty more to choose from though, such as outfits, handbags, shoes, creams, and even belly button bands for pregnancy!
Have you ever taken advantage of the deals at Baby Steals? What did you get and how was your experience?