Babies R Us Canada Freebie: Free Basket Stand ($40 Value) With Purchase Of Moses Basket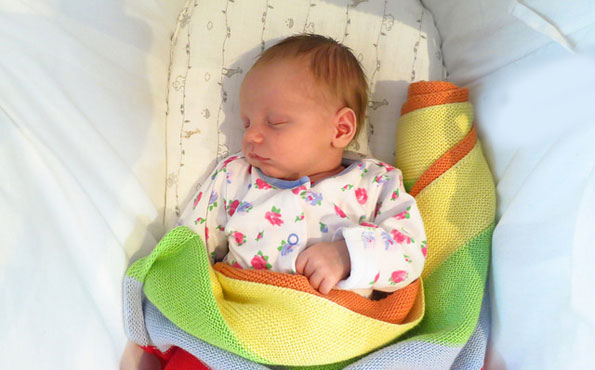 Looking for a bassinet? Then I suggest you get the Moses basket at Toys R Us for $79.99 because during the next two weeks, you will also get a free basket stand with a value of $39.99 for free with its purchase.
Wow, if only this deal would have been going on when I bought my Moses bassinet! Not knowing anything about babies at all when I was still pregnant and quickly nearing full term, I had figured that my baby would sleep in her pack 'n play in the beginning and then transition over to her crib a couple of months later. But no one told me that not only my baby would want to be held every single second of every day in the beginning, but also for some reason, the thought didn't occur to me as to where I should put her during the day when we're in the living room and so, it must have been on the second day of being home that I told hubby to go to Toys R Us to buy a bassinet. At that point, I was so exhausted that I hardly cared which one he bought, nor how much it cost, but in hindsight, I definitely wish I could have taken advantage of Babies R Us' current freebie!
When it comes to bassinets, there is definitely no shortage of choices out there. The Billy 2-in-1 bassinet, for instance, is a popular choice and it's also currently on sale for $74.99 but, the bassinet part can't be carried around the house like the Moses can. The fact that I could carry my baby in the Moses one was a huge advantage. I even got to shower a couple of times with my baby in the basket a couple of times and as a lot of you should know, showering definitely becomes quite the luxury during the first couple of months!
The canopy was also very useful because in the evening, when we were trying to unwind by watching TV but didn't want our little one to be alone in the bedroom just yet, we would just lift it up and shield her from the brightness of the television. The only drawback was that ours wouldn't stay up on its own but we fixed that problem by using a hair clip to secure it to the handle. Compared to the other bassinets available out there, the Moses one is also quite large and one that you could use up to 18lbs. We stopped putting our little one in it at about a month and a half but that was only because of my mommy paranoia over her potentially rolling over! :P
As a $10 shipping discount will automatically be applied at checkout, you will also get this basket shipped for free!
(Image Credit: Leon Brocard)
(Expiry: 18th September 2014)